ArtsWestchester Celebrates Gov. Mario M. Cuomo Bridge at Annual Gala
We are part of The Trust Project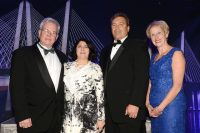 ArtsWestchester celebrated the new Governor Mario M. Cuomo Bridge at its annual gala Nov. 19 by honoring the integral work of key individuals who helped to make the new bridge a reality.
With the theme, "Celebrating a Work of Art," ArtsWestchester honored Jamey Barbas, P.E., New NY Bridge Project Director of the New York State Thruway Authority, and all of The Men and Women Who Built the Bridge, including engineers, contractors, trades people, unions, managers and others who worked on the bridge. Terry Towle, president of Tappan Zee Constructors, LLC, accepted the award on their behalf. In addition, ArtsWestchester presented Special Recognition awards to Dr. Marsha Gordon, president and CEO of The Business Council of Westchester, and Andrew P. O'Rourke, Jr., Educational Outreach Coordinator for the New NY Bridge Project for the New York State Thruway Authority.
"The Governor Mario M. Cuomo Bridge is both a metaphor and a work of art," said Janet Langsam, CEO of ArtsWestchester. "Its grace and grandeur mark the historic passage across the Hudson River. It is a beacon for residents and travelers, a symbol of the connectivity between Westchester and the Hudson Valley," She continued, "We are thrilled to be honoring the men and women who are building the bridge."
Jamey Barbas explained, "I believe designers of civil works, like artists, should aspire to create uplifting, aesthetically pleasing, awe-inspiring works. The new Governor Mario M. Cuomo Bridge spans the great Hudson River with elegance and fits gracefully within the landscape it frames."
The honorary chairpersons for ArtsWestchester's 2017 Gala were Ross J. Pepe, president of the Construction Industry Council of Westchester and Hudson Valley; and Edward Doyle, president of the Building and Construction Trades Council of Westchester and Putnam Counties. The event's dinner chairperson was George Troyano, President and Publisher of The Journal News.