Armonk's Tateo Recognized as New York Runner of the Year
We are part of The Trust Project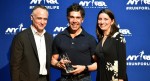 After starting as a runner just five years ago, Armonk's Danny Tateo was recently named the 2015 New York Road Runner's Runner of the Year for the 50 to 54 age group.
Tateo, 51, received the award Feb. 25 in New York City at the 37th annual NYRR Club Night at the Hard Rock Café Times Square. One of six finalists in his age group, Tateo said the win was among the best moments of his life.
"I haven't stopped drinking wine since Thursday night," he said yesterday (Monday).
The Byram Hills High School graduate, who owns a heavy construction equipment rental business in Mount Vernon, said his wife Elena and members of his running club, Warren Street Social and Athletic Club, have been extremely supportive of him and were on hand for last Thursday evening's award ceremony.
"You would have thought I was Leonardo DiCaprio winning the Oscar," he said. "Everyone jumped up with tears in their eyes. And they all said the same thing – 'You deserve it. Nobody worked harder than you.'"
Five years ago Tateo took up running to give himself a new goal. He had been a weightlifter, but said that was mostly to compensate for low self-esteem. He lost 35 pounds through exercise and help from his wife, a dietician, and gained confidence running races in Central Park. While he initially finished far behind top competitors, he soon began competing among the best in his age class.
Tateo, who has a sponsorship from footwear company Sketchers, has been getting up before dawn for one of two daily runs, accumulating over 4,400 miles each year. Last year, he ran six races of various distances in Central Park organized by the New York Road Runners in an effort to qualify for the club's Runner of the Year award. He won four of the races and placed second in two others.
The new award winner said he wasn't sure what he would do next. Competing to be the best in his age group in the USA Track and Field race series is one possibility, but first he will run a half marathon in Florida and see how he feels. He said reaching his running goal has given him time to relax for the first time in several years.
"It's a funny feeling after four years of running twice a day and getting up at 3:45 a.m.," Tateo said. "I don't feel that pressure anymore."