Armonk Man Celebrates 100th With Help From NWH Program
We are part of The Trust Project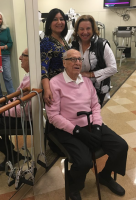 By Anna Young
Philip Wagner's birthday last weekend proved to be inspirational to all of those who know him.
The Armonk resident celebrated his 100th birthday on Jan. 29 surrounded by family and friends, but the party started a couple of days early last Friday when his dedicated team of doctors, nurses, caretakers and friends celebrated the special milestone at Northern Westchester Hospital's Chappaqua Crossing site.
Wagner has participated in the outpatient cardiac rehabilitation program for the past 26 years and determinedly shows up for his workout sessions three times a week. He leaves patients and doctors in awe of his strength.
"He's a wonderful man and so important to us because he's an inspiration to all the other patients," said Pong Wong, supervisor for cardiac rehab who has worked closely with Wagner for 10 years. "I tell everyone, if Phil can do it, you can do it."
While everybody surrounded Wagner singing "Happy Birthday" and praised him for reaching his special day, he asked his caregiver of five years, Monique Ayala, why he was sitting around on his bum instead of working out.
Wagner, who grew up in New York City, is an NYU graduate. While attending Yale Law School, his studies were interrupted by World War II, and he went on to serve as a Merchant Marine. He resumed his education after the war, returning to earn his law degree.
Wagner went on to two successful careers. The day he retired from serving as vice president-regulatory at New York Telephone, he started the next phase of his life as in-house counsel for Krasdale Foods. Wagner retired at 94.
However, for decades his health had been an issue. It was 43 years ago that Wagner had open heart surgery, surviving a quadruple bypass. Later on, he voluntarily signed up for Northern Westchester's outpatient cardiac rehabilitation program.
Since then, Wagner has been living a healthy and hearty lifestyle, working out on his favorite machines for close to four hours a week, joining his family for weekly dinners, enjoying the scenery of the Bronx River Parkway as he and Ayala take their daily rides and hoping one day the Jets will win another Super Bowl.
Concerned about his well-being five years ago, daughter Karen Faller said her father wouldn't have made it this far if it wasn't for Ayala and the Northern Westchester Hospital staff keeping him going. Two years ago doctors put in a pacemaker and Wagner takes two medications daily.
"I think part of his continuing to come here has kept him going. There's not enough positive words I can say about all the work they do here," Faller said. "My father has always been determined and has a personality of gold, but they have kept him vibrant, social and active."
Wagner, though, took his 100th birthday in stride and vowed that he's not done yet.
"All you have to do is sit around and let the years pass by and people will make a big fuss about you," Wagner said. "I'll do it again next year."