Ari Shamery is the 2013 Art Monk Scholarship Award Winner
We are part of The Trust Project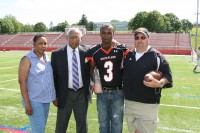 The 2013 White Plains High School Art Monk Scholarship Award winner is senior running back Ari Shamery. This is the 18th Annual Art Monk Scholarship Award sponsored by Art Monk, a 1976 graduate of WPHS, who was inducted into the National Football League and College Football Hall of Fame.
Monk was a standout athlete at WPHS high school, who attended Syracuse University and graduated in 1979. Monk won the Lambert Trophy, as the best college football player in the Eastern United States his freshman and senior years at Syracuse. He was selected as a First Team College Football All American in 1979.
Subsequent to college, Monk played professional football for the Washington Redskins, New York Jets and Philadelphia Eagles. He was inducted into the NFL Hall of Fame in 2008 and the College Football Hall of Fame in 2012. Monk was also inducted into the White Plains High School Hall of Fame in 1976 and he is also a member of the Westchester County Sports Hall of Fame.
Monk decided 18 years ago to establish as part of his legacy at WPHS, a scholarship in his name. The Art Monk Scholarship is presented each year to a deserving student/athlete, who plays football and maintains academic assiduousness and good citizenship in the community. The Art Monk Scholarship Award includes a $1000 check and a trophy designed by Monk himself.
"I feel honored to receive the award. I thank my coaches and everybody who helped me make it this far," stated Shamery, this year's honoree.
The Tigers running back and tailback for the past two seasons also commented regarding Head Football Coach Michael "Skip" Stevens. "He has done everything for me. Honestly, Coach Stevens is the reason that I am here today. He made me into the man that I am today," gratefully expressed Shamery.
"For him to say things like that about me and our staff really means a lot," said Stevens. "But Ari is very humble, he deserves everything he gets; he works hard both in the classroom and on the football field," complimented Stevens.
Besides earning four varsity letters, two in Track and Field and two in Football; Shamery also maintains a 95% grade point average in academics at WPHS. "It is really the motivation for me wanting to accomplish something in life and the teachers and coaches who helped me strive," expressed Shamery.
"As a coach, you always want to win every signal game," commented Tigers Head Football Coach Stevens. "But our job as high school coaches is to teach life-lessons and build character in young people. Ari Shamery is a testament to that, he has grown from a young run-around child into a young man," proudly stated Stevens.
However, Shamery also gives praise to another special person in his life for his academic and athletic perseverance, his mother Cynthia Haggins. "She got me up every morning. She motivates me to do something with my life. She says she wants me to take care of her when she's older," smiled Shamery.
Shamery's mother Cynthia did not miss one WPHS football game the entire two seasons her son played varsity football for the Tigers. In fact, Haggins only missed one game the entire four years (JV and varsity) that her son played football at WPHS. "I am ecstatic about Ari winning this award! This is my baby boy out of six children and I am just so proud of him," declared Shamery's mother Cynthia.
Ironically, Shamery and his mother Cynthia grew-up on Battle Hill Avenue in White Plains, which is the same neighborhood where Monk lived during his childhood and school years. "Yes, I grew up on Battle Hill just like Art Monk. I heard he ran track and played football at White Plains High School and he set many track records," stated Shamery.
Shamery will attend Morrisville State College, a State University of New York, in Morrisville, New York, after graduation this year. He plans on playing running back for the football team and majoring in Criminal Justice. Shamery is already taking courses in Law Enforcement and plans on becoming a police officer after graduating from college.
Dan Woodard is a former Principal at WPHS, who is presently the Chairman of the Glenn D. Loucks Memorial Track & Field Games. He is also a longtime friend of Monk's and the presenter of the Art Monk Scholarship Award.
"This is a credit to Art Monk that he wanted to give back to his school," said Woodard. "Art wanted to have something everlasting so he designed the trophy and secondly he wanted to contribute a monetary figure for youngsters to use coming out of high school and going to college," explained Woodard, who was also a teacher in the White Plains School District from 1961-'96.
"I think Ari Shamery is a worthy selection for the 18th Annual Art Monk Award," acknowledged Woodard. "He is tribute to himself, his race and his school. Ari Shamery will make a positive contribution to society," praised Woodard.