Another Helping of Fall Flavors to Choose From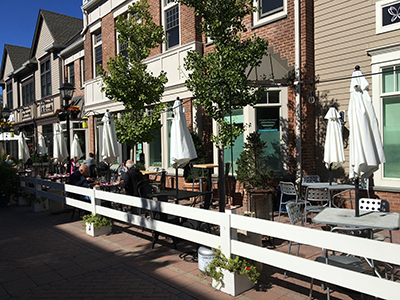 By Morris Gut
Several years ago, a veteran restaurant team collaborated to open Tesoro D'Italia Ristorante, a casual family-friendly Italian restaurant on Marble Avenue in Pleasantville.
Heading the day-to-day operation is Peter Lucaj, who had previously been general manager of Ciao Ristorante in Eastchester.
It was a lovely fall day for a visit. We decided on seats at the bar. Had a cocktail while perusing the menu. We both had a yen to share a platter of fried calamari, a tricolor salad with added gorgonzola cheese and one of my favorites – Chicken Payard, a thin breast of chicken, served with endive, avocado, fresh mozzarella, tomatoes, evo and balsamic. A side of sauteed broccoli, too. Portions were generous and delicious.
Hearty pasta specialties to look for include the delicious Fusilli Melanzana (fresh tomatoes, basil, eggplant, parmigiana cheese and fresh mozzarella in a meat sauce); linguini seafood (shrimp, scallops, calamari, clams, mussels with fresh tomato, basil, sautéed garlic and oil); two-color cavatelli (broccoli rabe, sundried tomatoes, sausage, garlic and oil); house-made mushroom ravioli stuffed with porcini and portobella mushrooms and ricotta served with a light truffle cream sauce; classic linguini with clam sauce; and Pasta al Salmone (sliced fresh salmon in a pink sauce).
Generously served main courses include Chicken Tesoro (breast of chicken dipped in parmigiana cheese with white wine, lemon, peas and asparagus); Veal Chop Valdostana, stuffed with fontina cheese, prosciutto, parsley, white wine and shitake mushrooms and truffle oil; classic Filet of Sole Francese served over spinach; and Veal VSOP (veal scallopini with porcini and shitake mushrooms served in a garlic sage and cognac sauce).
The restaurant is divided into a main dining room for 100 guests, a semi-private fireplace room for up to 40 guests and a lovely glass-enclosed wine room seating up to 25. A spacious banquet room can accommodate 130 for all types of parties and private events. Tented outdoor seating is available, and COVID-19 restrictions are in place.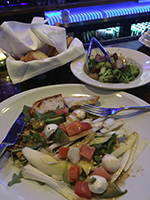 There is an inviting tiled bar and lounge area for networking, spirited conversation and casual dining. A dramatic wine wall highlights the dining room along with smoked glass dividers and white tablecloths. Grey and white hues help polish the space.
Tesoro D'Italia serves a weekday lunch special from 12 to 3 p.m. for $19.95, which includes salad, main course and coffee, tea or soda. There is a wide variety of dishes to choose from.
Tesoro d'Italia Ristorante is located at 160 Marble Ave. in Pleasantville. Open seven days. Indoor and outdoor seating. Free on-site parking. Info: 914-579-2126 or visit www.tesoroditaliany.com.
Carvel Brings Back Memories
I had my first taste of Carvel soft serve ice cream in years recently. After a good tavern meal, my companion suggested it. We looked up the nearest shop and got two hot fudge sundaes. It brought back memories galore. I could almost hear founder Tom Carvel's gravelly voice pitching his product. He started Carvel in Hartsdale and became a local celebrity.
Since then, we have been taking advantage of Carvel's two-for-one sundae deal on Wednesdays. Sitting in the car and enjoying it, just like the old days. Tried their salted caramel the other night and it was quite pleasant, not overly salty. My son-in-law still craves their iconic Fudgie the Whale Cake on his birthday. For locations, visit www.carvel.com.
Delicious Kielbasa at Yonkers Miasarnia
This shop has been importing and producing Eastern European specialties like kielbasa since the 1960s. It is an old-fashioned neighborhood gem in Yonkers. We drove down winding Palmer Avenue to Lockwood Avenue where the shop is located and at first glance it looked like little had changed in years. These types of ethnic food shops have dwindled over the years. A real loss.
We brought home two long links of fresh-made Polish kielbasa, a jar of their extraordinary homemade horseradish and a few servings of potato and cheese pierogi. Traditional delights. Dove right into the kielbasa that evening with some good sides. It was so much more flavorful than the commercial brands I have tasted. Next time we'll bring home some of their mustard, too.
The pierogi was delightful with caramelized onions and a dollop of sour cream. A neighbor of ours longs for their Hungarian liver and rice sausage. So far, we have used more of the kielbasa in a French-style lentil soup, and with our mussels.
They have a full menu, but it is best to check ahead to see if they have what you want in the display case. They may not have every item on hand all the time.
Yonkers Miasarnia is located at 39 Lockwood Ave. in Yonkers, not far from the Saw Mill Parkway. Info: 914-965-1665 or visit www.yonkersmiasarnia.com.
New Management at Tauk
Restaurateur Anna Mallozzi has taken over Tauk Kitchen + Bar, the Montauk seafood-themed restaurant in Armonk. We were told there are big changes on the way including a new name. The restaurant and bustling outdoor patio on Armonk Square sits opposite DeCicco's Market.
There have already been changes made to the daily menu, but you can still enjoy specialties such as Bang Bang Shrimp, lobster cobb, fish and chips, Maine lobster roll, Chicken Francese and Fossil Farms Imperial Rib-Eye Steak. We'll keep you posted.
Tauk Kitchen & Bar is located at 402 Main St. in Armonk. Check ahead for hours of operation. Occasional live music. Free parking. Info: 914-730-1444. A website change is coming, but for now visit www.taukkitchen.com.
Morris Gut is a restaurant marketing consultant and former restaurant trade magazine editor. He has been tracking and writing about the food and dining scene in greater Westchester for 30 years. He can be reached at 914-235-6591 or at gutreactions@optonline.net.