Annual Girl Scout Effort Tops 100,000 Cookie Boxes for Military
By Kathryn Nicolai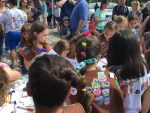 More than 36,000 Girls Scouts of all ages and rank assembled at the Westchester County Police Academy last Saturday morning for the Girl Scouts Heart of the Hudson's 15th annual Operation Cookie Drop.
Alison Bergman, former leader of her daughter's troop in Ardsley and current volunteer coordinator of the effort, founded Operation Cookie Drop in 2002. That year 36 scouts donated 100 boxes of cookies to an aircraft carrier in the Persian Gulf, Bergman recalled. Within four years the entire Girl Scouts Heart of the Hudson Council, which includes six Hudson Valley counties, including Westchester, was involved.
This year troops packed more than 101,000 boxes into crates to send to United States servicemen and women.
"It grew year by year," Bergman said. "Every year, incrementally, is another five to 6,000 boxes that people donate. They haven't stopped."
Bergman said because most of the soldiers who served in Iraq and Afghanistan have returned, most of the organizations and military sites through which the cookie shipments were organized have closed. As a result, the project has altered considerably.
This year's donated cookies are being sent to Marine Corps Base Quantico in Virginia and Joint Base Andrews in Maryland, Bergman said. For the past three years a veteran and trucker from Baltimore has transported the cookies. Previously, the cookies had been delivered free by Unites States military cargo shippers.
Today, the project has turned into a yearlong process for Bergman – a "labor of love," she said – to organize the donations and find locations to send the cookies.
Last Saturday, piles of colorful cookie boxes lined the police academy's parking lot for the Girl Scouts to pack into cardboard crates. Each crate was decorated with markers by the troops and had a specific number detailing the amount of each type of cookie to be packed.
Last Saturday, Army captains Pamela Gaulin and her husband, Christopher, who returned from Iraq, stood in front of an American flag to take pictures, speak with scouts and help pack boxes. The police academy was bustling with booths where cards were made to thank veterans and soldiers for their service. Scrapbooks were also filled with responses from soldiers who received cookies from the troops.
The ceremony marking the start of box packing started with Master Sgt. MaryKay Messenger of the West Point Band singing the National Anthem. Servicemen and women were on hand to talk to Girl Scouts and families and to pack boxes.
Lt. Sam Sola of Yonkers thanked all those who participated in Operation Cookie Drop.
"In today's information age everyone has got cell phones and iPads, so getting a little text message is one thing," Sola said. "Getting something tangible like a box of cookies and a little card that says thank you and we miss you and we're thinking about you makes a world of a difference."
Two petty officers from Joint Base Dix, Robert Stonaker and Paul Cambillo, presented a flag to Bergman and another to the council during the ceremony.
"It's a great morale booster for the guys that receive the cookies either in country, or especially out of country," said Cambillo, a Valhalla resident. "Believe me, they love it, everybody loves it. It puts a big smile on their faces when we get it."