Andrea Stewart-Cousins on Advocacy and the Role of Government in Society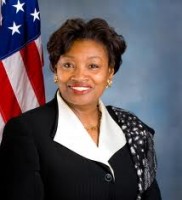 Recently, The White Plains Examiner had the chance to sit down with New York State Senator Andrea Stewart-Cousins (D-35th Senate District) and talk about what it's like to be the first woman Democratic Conference Leader and the road that lead her to the prominent position she has today.
Stewart-Cousins is rather forthcoming about her modest roots. One of two children – she has a brother – Stewart-Cousins grew up in public housing in the Bronx made available to GIs returning home after serving during World War II. Her father was a recipient of the Purple Heart and the Bronze Star.
Stewart-Cousins recalls that her mother often talked about wanting to be a lawyer, but even though she could type 100 words a minute, she found it difficult to get a job in a corporate society that still discriminated against Black members of the community. Accepting that she would never be able to fulfill her dreams, she decided she would become an advocate and speak for her community at organizations like the PTA.
Both parents finished high school at night and encouraged their children to pursue higher education. Stewart-Cousins was the first in her family to obtain a college degree. "I can remember my mother saying to me 'no one can take your education away from you'," she said.
"I wanted to be a journalist," Stewart-Cousins explained, "but there were no role models for me to follow, no way for me to set my goals, so I assumed it was something I would never do.
Stewart-Cousins pursued a career at AT&T and eventually went back to college to obtain a Master's Degree. "I had a chance to study journalism and marketing," she said.
While at Pace, the Senator was given the assignment to cover Geraldine Ferraro's campaign and on election night she wrote the article titled "Losing Like a Winner." She was later hired by Gannett and assigned to cover government.
But as the responsibilities of motherhood encroached on her working schedule Stewart-Cousins decided to change careers and become a teacher.  She again pursued the necessary education to obtain that goal. "I was always motivated to keep on going," she said.
With her background in writing and experience with advocacy, Stewart-Cousins was invited to help the first African-American, a woman, to win a seat on the Yonkers City Council.
"I was in charge of speech-writing, policy direction and initiatives," Stewart-Cousins said. "Later the mayor of Yonkers appointed me as the Director of Community Affairs for the city. Yonkers had just gone through the process of desegregation and I had the opportunity to be the human face of the new policies. My goal was to open city government to the people. The people have to understand why government matters and that they have a role to play."
The Senator started internship programs for young people to introduce them to government.
At the time there was a separation between the east and west sides of Yonkers and Stewart-Cousins worked to bridge the gap, often using the arts and education to bring them together.
"I was happy to work with what was there to make the best possible. If you make things the best they can be, that leads to the next step," she says. "Everyone has something to bring to the table."
And such is the vision that brought Stewart-Cousins to the County Legislature and now on to the State Senate.
Having been elected as the Democratic Conference leader by a majority of men (women represent less than 20 percent of the legislature), Stewart-Cousins said it was exhilarating to be a part of the process that got the SAFE Act passed, but very disappointing that progress stalled on campaign finance reform and women's equality.
With a fractured Democratic Party – four  democratic members of the senate have joined forces with the republicans – progress is stalled, Stewart-Cousins claims.
"When the conference works together there is strength and it is positive," she says.
Promoting the economy, increasing jobs and the environment are other key issues on the Senator's agenda.
"I am completely for a moratorium on fracking until scientifically it is proven one way or the other that it is or is not safe," she said.
Stewart-Cousins believes that it is the responsibility of government to ensure that citizens have a level playing field and that it operates in accountable and transparent ways.
"We have to be respectful of and responsible with how we spend tax dollars. I support regional symmetry and balance in the state and relationships between government and the private sector when it is necessary," she concludes.
Senator Stewart-Cousins wants to hear from constituents in her district. She can be reached through her website at: nysenate.gov/senator/andrea-stewart-cousins.