Always An Angel Homecare, Putnam Valley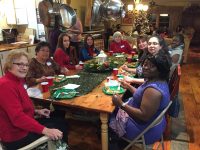 Since 2012, Always An Angel Homecare has steadily grown its brand.
Now, the homecare service is close to receiving its New York State license that would expand its capabilities and is already pushing hard to franchise the business by opening up other Always An Angel locations in other regions of New York and even other states.
"A lot has changed over the last five and a half years," co-owner and president Steve Velichko said. "When you're first opening, you're just trying to get the business going and get a name for yourself."
Currently, Steve and his wife Roberta, along with a dedicated office staff and caretakers, offer non-medical assistance to seniors in their homes or facilities that they live in. Some of that help includes meal prep, medication reminders, laundry, light housekeeping and transportation if a senior needs to go to a store, a doctor's appointment, or a weekly mass at church. Currently, Always An Angel services mostly northern Westchester County and all of Putnam County, but not for long.
There are now franchising opportunities with Steve and Roberta hoping to attract potential business owners that have as much passion for senior as they do.
Additionally, Steve said the company has pursued a state license to cast a wider net of clients they could care for. Some current seniors' health deteriorates to the point where a licensed nurse needs to come in for more care.
"A lot of it is companionship and just making sure somebody's there with mom or dad or your aunt or uncle or whoever you're caring for," Steve said. (The business makes sure no senior is alone for their birthday and cake and candles are brought to their home.)
The faith-based business, Roberta said, is a chance to be a "blessing to people" and "offer them hope." The spiritual aspect only adds to the business' success and no person, regardless of faith, is ever turned away, she said.
Their website has more than 100 client testimonies praising Always An Angel and even caretaker testimonies about working with the company. Steve and Roberta stress communication with seniors and a personal touch are critical. Roberta understands a visit from a caretaker might be the highlight of a senior's day, so it's important to be reliable.
Steve used to work in the corporate world in sales and Roberta was a stay-at-home mom to her four children for almost two decades. After Roberta went back to work part-time, Steve kept suggesting they start a business together and after a year, Roberta finally said "why not."
They decided to open this business together and neither has looked back. A couple years later, one of their sons, Steven, also joined and is an integral part of the company.
Now they have an eye on expanding and have even come up with a company jingle they hope will be heard across the state.
"An angel in your home," Steve and Roberta tunefully said.