All the Ladies in the House Say, Hey! – Duchesses of Haldane, Lakeland, Somers Representing at States
We are part of The Trust Project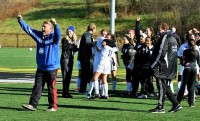 By Ray Gallagher
Examiner Sports Editor
I can't remember a time when the young gals of Northern Westchester and Putnam County were the leading ladies on three separate stages; fashioning three NYSPHSAA championships in soccer (2) and field hockey while placing a state runner-up in volleyball. I'm doing this a quarter of a century and I can't recall anything like this during one season in our little neck of the woods.
Nobody holds up their end of the bargain like the HALDANE Lady Blue Devils Do. There is as much fight in these ladies than perhaps anyone else in New York State, just ask their Class C soccer opponents and Class D volleyball opponents from Westchester to Cattaraugus County on the western southern tier. You can snicker and sneer all you want and be that guy that minimizes Class C/D sports, but you'd just be the fool on the hill. The Haldane Lady Blue Devils are the truth, and the hallowed halls of the Cold Spring-based school — full of sectional, regional and NYS championship plaques — prove it.
Haldane's representation of Section 1 sports was on full display this past weekend as the Lady Blue Devils rose to the occasion yet again when 'The Little Factory That Could" produced a Class C NYS girls' soccer championship and a second-place finish on the Class D volleyball circuit.
These Blue Devil student athletes typify what Haldane High is all about; a tiny township of a few thousand people who lay it on the line when it comes to Blue Devil athletics; athletes, coaches, alum and parents. They made what has become an annual trek to Glens Falls in support of the Haldane volleyball program, which is rife with championship history, dating back to 1998 when Haldane began this traipse across the state as volleyball primadonnas, winning four state titles.
The Blue Devils and Coach Melissa Rossano's volleyball team won the program's 12th straight sectional title and arrived at Glens Falls with a 19-2 mark, seeking the program's fifth state title but failed to do so last Sunday at the Civic Center after a thrilling five-set loss to Section 6 champion Portville. Blue Devils Kelly Vahos and Nicole Etta were named to the Class D All-Tournament team and libero Melissa Tringali could have been a third selection after the tear-jerking 26-24 fifth-set loss (Portville endured a 22-25, 25-23, 25-18, 13-25, 26-24 win).
But some of their best chums had already done something on the pitch that no Haldane team had done before when the Blue Devils (16-4) knocked off Section 5 champion Avon in overtime, 2-0, on Saturday before defeating Section 4 champion Lansing, 1-0, in Sunday's title tilt. Senior Allie Monteleone, the leader you'd expect to come up big, bagged the game-winning goal, erasing the agony of last year's state championship loss. Blue Devils sweeper Missy Lisikatos, yes another in a long line of Lisikatos', was a persistent pain in the butt on defense, quelling runs with typical Lisikatos tenacity in front of Blue Devils goalie Sara Labriola. Every girl on the team played a vital role.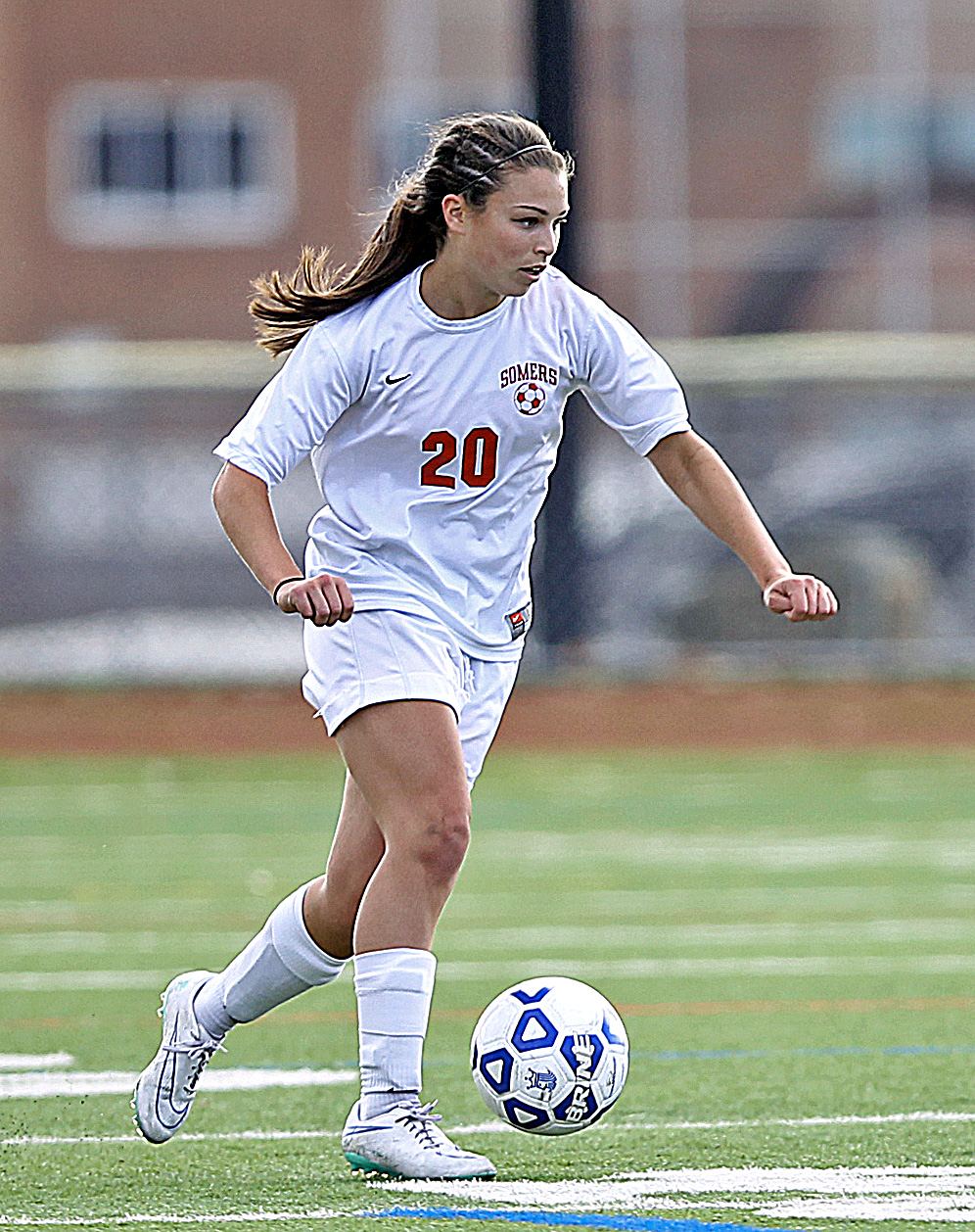 If there's one man that stands out among the glitch of female greatness this past weekend its Haldane soccer Coach Gary Van Asselt. A veritable institution among the Blue Devil faithful, Coach Van Asselt should have a street in Cold Spring named after him for all he's done on and off the field for so many Blue Devils over the years. The Croton High grad has been there for decades, providing an emotional and spiritual lift for student athletes at Haldane when they need it most.
"Growing up at Haldane you know Gary from kindergarten until you graduate," Haldane grad and Croton Assistant Hoops Coach Nick Nastasi said. "He works there, he coaches there, and he's almost a father figure to so many Haldane kids. Gary will be the first one to console you after a tough loss and the first one to congratulate you after a big win. He doesn't have kids of his own, so he treats all these kids the best, giving everything he's got."
So it shouldn't take a whole heck of a lot to name something after the guy; someone should get on that.
"The girls never gave in," Van Asselt said. "And they are champions because of it. They are the reason. Day in and day out, they get it done. I can't say enough about what our defense was able to do. They made the stops we had to have. They made the plays we had to have. And that's why we're state champs."
That's part of it, for sure, but Van Asselt is a special guy over there, and now he's been rewarded with the fruits of his labor.
Meanwhile, SOMERS HIGH was being represented by a senior class whose NYS Class A girls' soccer championship was long overdue. Perseverance, though, paid off for this group. After losing out in the Section 1 championship on PKs in 2012 and being stunned early in the playoffs last year, the 2014 Tuskers capped the school's first undefeated season (22-0) in history and won just the second TEAM state title ever (boys cross country 2004) after a 3-1 win over Section 8's Rockville Centre South Side in the NYSPHSAA Class A finals on the campus of SUNY Corltand.
The Tuskers won their second Regional title since 2011; a time when then-freshmen Melissa Righetti, Hayley Bonner, Michelle Wienecke, Shoshana Bedrosian, Jess Rosenblum and Shannon Blanch were just cutting their teeth at the varsity circuit. I swore they'd cash of couple of state checks before they were done when I first got wind of them back when Beth Coppolecchia, Melissa Menta and company were making hay on the state scene as Class A runner-ups that year. But it just goes to show how hard it is to win at this level, and the Tuskers, co-coached by Paul Saia and Keenan Deegan, were on the brink of elimination in Saturday's 2-1 semifinal triumph of Section 3 champion Jamesville-DeWitt before a pair of late goals from Hannon Eberts off a gorgeous cross from sophomore Jenna Menta (yep, another Menta) and sophomore Melina Cousiz, who converted a PK with just over 5:00 left.
After knocking off the No.1-ranked team in the state in the semis, No.2 Somers left no doubt in the finals, knocking off the fourth-ranked Long Island power, which just might be the No.1 program in the state over the past three decades (17 NYS championship in Classes A & B).
And while most of New York State (outside of Section 1) was busy rooting against the dynasty that is LAKELAND field hockey, the undefeated Hornets, winners of 52-straight, were putting the pedal to the medal last weekend at Maine-Endwell High School where they procured their sixth-straight (yep, I said sixth) NYS Class B championship. Lakeland defeated Section 4 champion Vestal 4-0 in Saturday's Class B semifinal match before going out on Sunday and besting Section 8 champ Garden City, 3-1, for an unprecedented six-peat.
There is no putting this into perspective because six consecutive state championships are as rare as Einsteins and Newtons or a snowbird in hell. What Lakeland Coach Sharon Sarsen has done with this particular program is beyond mindboggling, given the fact that it continues to turn over like it does yet reproduce the same result year after year in a pressure-packed setting. Sarsen's legacy, upon coaching her last game sometime down the road, will be a tough act to follow for any man or woman: She is simply the best, better than all the rest.
"We try to not talk about the pressure," Sarsen said. "It wouldn't serve us well to dwell on the pressure. I just want the kids to do their best, have fun and let the chips fall where they may."
That chip seems to fall in the same place year after year; right in Sarsen's hands.
Well done, ladies, ALL OF YOU!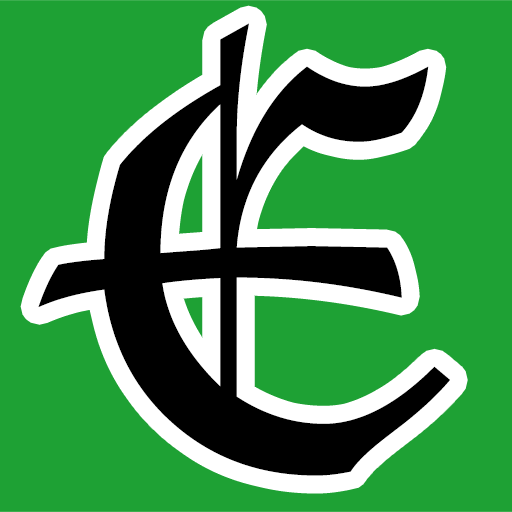 Examiner Media – Keeping you informed with professionally-reported local news, features, and sports coverage.