All Levels of Government Tour Mahopac Businesses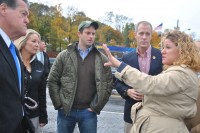 With a slew of local officials paying attention, local business owners in Mahopac voiced their concerns about what priorities they thought were important to build up small business in the area.
Featured as another stop in U.S. Representative Sean Maloney's "Main Street" tours across the Hudson Valley, the representative was joined by other officials like Putnam county executive MaryEllen Odell, state senator Greg Ball, assemblyman Steve Katz and Town of Carmel supervisor Ken Schmitt. The tour included visits to multiple locations to the Mahopac business district and then a roundtable, in which parking and traffic and pedestrian flow were targeted as key issues to tackle.
"I'm not here to drop in a bunch of new ideas as much as I am to find out what you're already working on and how I can help," Maloney said during the roundtable.
Putnam County of Chamber chairwoman Jennifer Maher said afterward having all the levels government at the roundtable would help hold every level accountable in pushing forward.
From talking to business owners, Maher said she's heard that traffic in the area and taxes are the topics brought up the most. She added property owners have a hard time because they have to keep lowering the rental rate while the taxes continue to climb.
The owner of Mahopac Marina, Charlie Melchner said times are tough and generating income each day can be a challenge, but he pointed out he's had good years and knows he'll get through the bad years, as well.
But it would help if adjustments were made, he said.
"We're always looking for more parking so people can get in easier to our area," Melchner said. "And traffic flow, slowing it down, making it easier so people can enjoy the local town and that'll start to make everything better."
Maloney said during the roundtable his office has the capacity to "blow through walls" and get agencies lined up that could lead to improved business growth. He noted that with how big the government is, there is always money floating around that can be earmarked to help the business district.
"It's a big, damn government," Maloney said. "And there's a ton of money in it."