After a Five-Year Vacancy, Modell's Fills Crucial Mt. Kisco Storefront
We are part of The Trust Project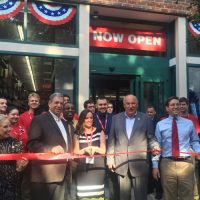 The long vacant storefront that formerly housed a Borders book store has been filled in Mount Kisco.
An opening day ceremony for the new Modell's Sporting Goods store at 162 E. Main St. was held on Thursday. Borders left the building in 2011 after the chain filed for bankruptcy.
CEO Mitchell Modell said there is plenty of energy and excitement in the community and on the part of shoppers surrounding the opening.
"The reaction from the customers is great,"  Modell said. "The reaction from the Chamber of Commerce is great. We're thrilled to be part of the community. We look forward to being here for a very, very long time. "
The opening comes about a month shy of five years since Borders left the site. The roughly 22,000-square-foot vacancy was often referenced whenever the issue of how the village could improve downtown Mount Kisco was raised.
Cindrich described Modell's as "a destination location store." Having a new store come to the location is important for the downtown, he said.
"When you drive into town this was a corner that was very visible. The former owners did a nice job architecturally," he said. "To see this store vacant was a heartbreaker for many, many people. And it lasted for five years. We're fortunate that a group like Modell's and the Lerner Group came in and invested in our community. It validates that this community has a lot of potential."
Cindrich praised Modell's for its willingness to invest in the community and said that the store's opening should be an important boost for the commercial district.
"Other businesses will see the success of Modell's, and when they see that success, it will be an inspiration to them to open a business," he said.
Modell said his company had long considered opening in the village.
"We finally got together with the landlord to work out a deal," he said. "Friends that live in the area said you've got to open up here."
Modell agreed that the store could be a catalyst for additional commercial development in the village's downtown. He said other merchants have mentioned to him that it should help drive customers to the location. Those merchants also confided that they are now planning to spend more on advertising and marketing and will hold promotions for their stores.
An additional tenant will eventually move into the roughly 7,000-square-foot space that the sporting goods store did not, he said. The additional business has not been determined.
Modell's also opened a store in Brooklyn on Thursday, increasing the chain to 156 locations. Modell's was started in 1889 by Morris Modell, the current CEO's great-grandfather.