Aesthetics, Driveway Mulled for Mt. Kisco Senior Housing Plan
We are part of The Trust Project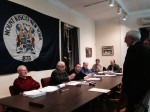 By Tom Auchterlonie: The type of materials and the fate of a secondary access drive for The Hearth at Mount Kisco came under scrutiny from planning board members during a meeting on Feb. 11.
Members were skeptical about the use of vinyl siding for the 129-unit senior housing structure. One of the critics, Stanley Bernstein, likened the development's appearance to nearby public housing. He also felt that the look has gotten worse since an earlier iteration of the proposal.
"It has devolved," he said.
For now, the siding will not be changed.
In an interview, Mark Miller, an attorney for the applicant, compared vinyl siding's look to cedar shakes. More details for the siding will be presented to the board at a future meeting, including material sampling and a 3D rendering of the building.
The Hearth at Mount Kisco is backed by a joint venture of Hearth Management and Fortus Group, according to village minutes. The application was presented to the planning board in October 2012 following a hiatus that began in 2009, The Examiner reported at the time. The project includes 89 assisted living units and 40 dementia care units, Miller said. The site is located at 270 Kisco Ave.
Board members are also slated to get a chance to view a sample of wall material that could be used for the project. While the company involved has a location in the Cold Spring area, the intention is to get a sample for display in the village, which would allow for more board members to view it.
Meanwhile, there is now some uncertainty as to whether or not the project will continue to include a secondary emergency access drive. The proposal had been to include one going to the Curtis Instruments site, which was added after planning board feedback was given for an earlier version that went up a hill and toward a water tower, according to Miller. However, some members have indicated that they did not see a need for a drive, he said.
At the meeting, Miller brought up a letter that he had received on behalf of the Mount Kisco Fire Department. The Feb. 3 letter from Chief Thomas Jackson gave approval for removing the access drive. Board member Ralph Vigliotti, who presided over a board that was missing several members, wanted a reason for why the determination was made.
Regarding support for access drive removal, Vigliotti noted that the board is "mixed on this."
The application, which was the subject of a public hearing at the meeting, will be considered again on Feb. 25 due to an extension of the hearing. Planning board approval must be given for a site plan, special permit and wetland and steep slopes permits.