Achieving Fitness Through Core Strength at Apogee
We are part of The Trust Project
Apogee Pilates and Wellness Centers located in White Plains and Bedford are the epitome of the Westchester fitness experience. Housed in elegantly designed studios and staffed with experienced instructors and trainers, the Apogee mission is to offer its clients a view to natural well-being and optimum health. At the core of the Apogee program is a system of innovative movement called Pilates, credited with building the body's core strength, while increasing flexibility, improving posture, reducing back pain, improving sports performance, flattening the abs, and improving balance. In 2009 Apogee acquired Power Pilates and incorporated the entire program into its wellness centers.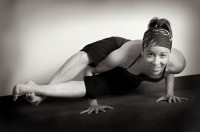 At Apogee, Pilates classes are conducted on the mat as well as using specifically designed equipment. Other programs include Yoga in a variety of styles, Zumba and Fusion Funk cardio dance, spinning, IndoRow, Kettlebells, restorative body work, and personal training.
To accompany the workout, at the White Plains studio, Apogee also offers spa services focusing on relaxation, stress management and self-care. Facials, including an Anti-Aging Power Facial, deep cleansing and power peels, are favorites according to Jane Nielsen, Regional Manager and Director of Sales. Other favorites include Swedish, deep tissue and hot stone massage as well as a host of waxing services.
Nielsen, who spends her time between the White Plains and Bedford locations, explains that while the health services offered at each location are basically the same, the women who use the Bedford studio tend to come during the day and take advantage of child care services, while the women in White Plains work out in the early morning (the studio opens at 5:30 a.m.) or evenings, and there is no day care service in White Plains.
"There are different types of memberships," Nielsen explains, and any membership gives full access to both studios. Both locations have a café offering smoothies and snacks, but the White Plains studio houses the spa. "Members and non-members are welcome to use the spa," says Nielsen, adding that "the membership at both studios is primarily women. There are no male members in Bedford, but a few men do Pilates in White Plains." Bedford also offers programs for seniors and has recently installed 23 new bikes for its popular spinning classes. Both locations sell a selection of designer fitness clothes.
Apogee is currently offering a special summer membership for $299; $249 for students. All memberships come with five guest passes.
The White Plains Studio is located at 140 Mamaroneck Avenue and can be reached by calling 914-644-8884. The Bedford studio is located at 170 Harris Road, Bedford Hills and can be reached by calling 914-244-1606. Class schedules for each location can be obtained by visiting apogeewellness.com
.