A Wide Selection of Culinary Choices for Diners to Indulge
We are part of The Trust Project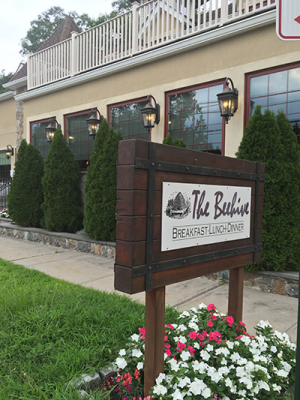 By Morris Gut
As part of our local brewery bounce, we were anxious to visit Allen Wallace's Soul Brewing Company on Wheeler Avenue in Pleasantville. They originally opened in mid-March, the day before the COVID-19 lockdown began to take effect in Westchester. Bad timing, to say the least.
Soul Brewing currently has outdoor tables on Wheeler Avenue and there is distanced seating inside. It was a warm afternoon for our visit, so we took a table inside. Our amiable hostess, Montana, helped us select two nice IPAs: El Tropicale and Truth Serum. A bag of BjornQorn was a good spicy nibble. There is a short list of finger foods available. If you want to visit, they are returning to their normal hours.
As an aside, while we were there my facemask came apart. Montana, our barkeeper, noticed and offered me another from a box she had behind the bar. That was very nice.
Soul Brewing Company is located at 41 Wheeler Ave. in Pleasantville. It's open Wednesday and Thursday from 4 to 10 p.m., Friday and Saturday from 12 to 10 p.m. and Sunday from 12 to 6 p.m. There are growlers for take-home. Info: 914-800-7685 or visit www.soulbrewingco.com.
Tasty Meal at Freebird
Stopped in for a bite at Freebird Kitchen and Bar after taking in some brews at Wolf & Warrior Brewing Company. Freebird was serving a limited menu but there were enough choices to keep it appetizing. We ordered a meaty half-rack of baby back ribs and a Cobb salad, both reasonably priced. I am happy to report both dishes were quite satisfying, with ample portions suitable for sharing.
Freebird has made changes to the bar and dining room due to COVID-19. There is seating outdoors and their rooftop is open as well.
Freebird Kitchen and Bar is located at 161 Mamaroneck Ave. in White Plains. Open daily. Take-out available. Info: 914-607-2476 or visit www.freebirdkitchenandbar.com.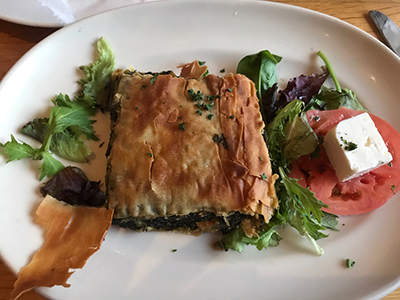 Return to the Beehive
The Beehive Restaurant has been buzzing in Armonk for 15 years for breakfast, lunch and dinner. Its comforting combination of eclectic specialties sprinkled with a tasty Greek influence keep patrons coming to this stretch on Old Route 22. It is a diner-esque experience, in a way.
We were coming back from a drive up north and hungry, so we decided to stop in. Had not visited in a long time. Scored a table indoors on a balmy evening, and they were distanced properly. There is outdoor seating under a tent and on the patio. Our waitress brought us our cocktails while we perused the menu. The place was bustling with families at 6 p.m.
My companion ordered Greek Spanakopita with fresh dill, spinach and feta cheese wrapped in country phyllo. It was listed as an appetizer, but she requested it as a main course. For me, the Turkey Chop Chop Cobb Salad caught my eye. It arrived loaded with cubed roast turkey, avocado, egg, bacon, tomato and a large helping of creamy Ranch dressing on the side. It was satisfying after having been on the hunt for a good Cobb salad for a while. As busy as it was, our waitress kept a fine eye on our table. Both dishes turned out to be very good.
The Beehive is located at 30 Old Route 22 in Armonk. Take out and curbside pick-up available. Open daily. Info: 914-765-0688 or visit www.beehive-restaurant.com.
Changes Coming to Stone Barns
I recently reported about the big job Stone Barns in Pocantico Hills was doing with its resourcED food boxes during the pandemic. Now we are hearing there will be a major shakeup. Dan Barber, founding executive chef and the driving force since its opening, is stepping aside. According to Barber, the highly-lauded culinary facility is switching to a guest chef residency program. It is an effort to promote diversity at the restaurant. Guest chefs will be selected from diverse backgrounds and bring their unique culinary vision to the kitchen and the public.
Sounds to me that their usual format will also have to change if they reopen to full dining in 2021. Reservations had always been hard to come by, and dinners in their formal dining room, which could run up 10 to 15 courses, started at around $300 per person. We will have to wait and see. Info: Visit www.bluehillfarm.com.
High Holiday Cooking Courses
Preparing for the High Holidays, Rosh Hashanah and Yom Kippur? Want to reproduce a good version of Bubbe's brisket? The Streicker Center at Temple Emanuel in Manhattan is offering free online cooking courses from Sept. 8-11 geared to the Jewish holidays. Featured are presentations by noted food writers Melissa Clark and Joan Nathan. Sounds good to me. We have signed up for a couple. Info: Visit www.emanuelnyc.org/contact/streicker-center.
Mussels at Home – Rediscovered!
We like diving into a bowl of mussels from time to time at restaurants that prepare them properly. During the COVID-19 crisis we have rediscovered how easy, cost-effective and delish these mollusks can be when prepared at home. Our two-pound bag of PEI mussels cost $4 and change as a special at a local market. More than enough for the two of us.
So far, we have prepared them with a capicola-based sauce with onions, white wine, a little cream and fresh herbs – Provencal style. We did a classic Moules Poulette recently as an ode to my old friend, Chef Maxime Ribera, who rocked us with his food during the late '80s and '90s at Maxime's in Granite Springs and Bistro Maxime in Chappaqua. Truly delicious, if you are a mussels fan. Here's a good basic recipe from Martha Stewart at www.marthastewart.com/330234/mussels.
Morris Gut is a restaurant marketing consultant and former restaurant trade magazine editor. He has been tracking and writing about the food and dining scene in greater Westchester for 30 years. He may be contacted at 914-235-6591 or at gutreactions@optonline.net