A Weekend of Earth Fun & Outdoor Activities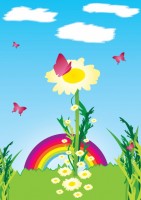 Saturday, April 18
YMCA Family Fun Day. A free community event 10 a.m. to 2 p.m. to inspire kids to keep their minds and bodies active. Will feature games, healthy food demonstrations and samples from Big Apple Smoothie and others, arts and crafts, science projects, demonstrations of kids classes in martial arts, basketball, ballet, Fit Kids and Youth Energetic Dance. There will be a camp information center, and a swag bag for every family that attends. Event goal is to motivate and teach families how to develop healthy routines at home. There will also be a Legos Healthy Kids contest. Children are asked to design and build Lego displays with a "healthy kids" theme at home and drop them to the YMCA on April 16 and 17 between 9 a.m. and 5 p.m. Three age categories: 1st and 2nd place in each category; great prizes. All entries will be displayed. $10 fee per entry. Winners announced at 1 p.m. on April 18. YMCA, 250 Mamaroneck Avenue, White Plains.
Teaching Trails: A Community Path for Environmental Education. Join guided trail experience through the woodland forest. Discover who left that track, which tree makes the best animal home or which plant makes its own heat to help melt through the late winter ice. Program runs about 30 minutes. Greenburgh Nature Center, 99 Dromore Rd., Scarsdale. 11:30 a.m. Free. Every Saturday and Sunday. Info: 914-723-3470 or visit www.greenburghnaturecenter.org.
White Plains Earth Day Celebration. Live music, storytelling, Green exhibits, environmental pledge tree; Noon to 4 p.m. Court Street, White Plains. Free event.
Signs of Spring. Explore the trails with a naturalist and see who is awake after a long winter nap. Read a short story and meet some live animals to learn how they welcome spring. Greenburgh Nature Center, 99 Dromore Rd., Scarsdale. 1 p.m. Members: $5 per person. Non-members: $8 per person. Info: 914-723-3470 or visit www.greenburghnaturecenter.org.
Sunday, April 19
Spring Seed Starter Garden Party in The Children's Garden at The Church in the Highlands; 11:30 a.m. to 2 p.m. Let's Get Some Seeds Started! Join the party to create garden art, prepare soil, sow seeds, dig-in and grow with us. Join a team to plan the next phases of the Perennial, Butterfly, Vegetable and Herb Gardens. 35 Bryant Ave. Lawn, White Plains – Free Admission; visit www.churchinthehighlands.org for details.
Earth Day at Wainwright House. 11a.m. to 4 p.m. Native & Pollinators Plant Sale. Attract Birds, Bees and Butterflies. Good for the Earth, Garden and House. Wainwright House, 260 Stuyvesant Ave, Rye; www.wainwright.org; 914-967-6080.
"Quartet for the End of Time" Concert commemorating the 70th anniversary of the Liberation of Europe during World War II. First Baptist Church of White Plains will present Olivier Messiaen's Quartet for the End of Time at 5 p.m. Messiaen composed this musical masterpiece in 1940 as a prisoner of war in Nazi-occupied France. He used the only musical instruments in the camp (Stalag VIII A): a clarinet, a violin, a cello with only three strings, and a broken piano. The first performance took place there on January 15, 1941 to an audience of prisoners. A reception follows the concert. Tickets available at the door (cash or check payable to John Wolfe, we are unable to process credit cards); $15, Students: $10 Children: Free. Free parking. First Baptist Church of White Plains, 456 North Street, White Plains; www.firstbaptistwhiteplains.org.
Downtown Music at Grace. Downtown Music continues its collaboration with the young winners of the New York International Piano Competition. – Anna Han and Allen Yueh play a program featuring the Chopin Piano Concerto No. 2 in F Minor, Op. 21 and the Schumann Piano Concerto in A Minor, Op. 54.  They will be accompanied by Downtown Sinfonietta, which features members of the Metropolitan Opera Orchestra, playing from unique 19th and 21st century arrangements of the score; 5 p.m. tickets $25, $15 seniors, $10 students age 25 and younger, $10 children ages 5-12. Grace Episcopal Church at the intersection of Main and Church streets in White Plains.
"A Year With Frog and Toad." The Play Group Theatre, theater for children and teens, opens its 2015 season with this story based on the books of Arnold Lobel. Part vaudeville, part make believe, all charm, this is the story of friendship that endures, weathering all seasons. Lively melodies and endless wit make for a fun production for the entire family. The Play Group Theatre, 1 N. Broadway, White Plains. 11 a.m. and 3 p.m. $18. Seniors and children (under 12): $15. Also Apr. 26 at 2 and 7 p.m. Info and tickets: 914-946-4433 or visit www.playgroup.org.
Earth Day/Arbor Day Celebration. Learn how to gather fresh rainwater for your gardens and how to turn your food scraps and garden waste into rich compost that will build up your soil. Other family-friendly activities include making your own seed garden, personalizing a re-usable bag and take a guided tour of the newly restored and revitalized native meadow. Also, plant a tree in recognition of Arbor Day. Refreshments available for purchase. Greenburgh Nature Center, 99 Dromore Rd., Scarsdale. 11 a.m. to 3 p.m. Free. (Some activities require a small fee.) Info: 914-723-3470 or visit www.greenburghnaturecenter.org.