A Variety of Restaurants to Choose From in the Area This Summer
By Morris Gut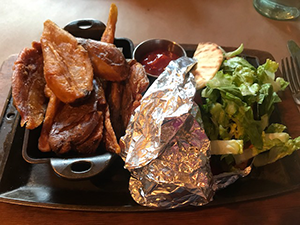 Celebrity chef Michael Psilakis brought his Mediterranean culinary magic to Westchester almost a decade ago. The award-wining innovator enhanced our knowledge of modern Greek-inspired cuisine through his restaurants, cookbooks and television appearances.
I was excited to revisit his work, especially as we emerge from the pandemic. We pulled into the Bridge Street complex in Irvington on a warm sultry day. There were visitors taking in the restaurants and shops and the dramatic, breezy views of the Hudson River. You could see Manhattan to the south and the Mario M. Cuomo Bridge to the north. It was lovely and we were quite hungry.
There was outside seating, but we preferred the handsome main dining room with its contemporary lighting, giant mirrors and artwork. There was a good crowd already partaking the fare during the brunch hour inside and outdoors. Our waiter took our drink order as we contemplated the menu. Much to our surprise, out of the kitchen came Psilakis tending to tables, chatting with guests. It was great to see him.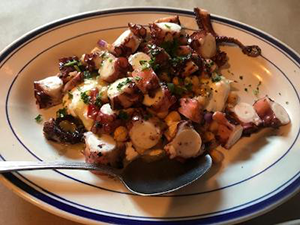 We started by sharing a platter of his superb grilled octopus served with an herbal chickpea salad and Greek yogurt.
For our main courses we ordered an eight-ounce lamb burger, served with spicy whipped feta, and an oversized stuffed falafel souvlaki, wrapped in fresh pita with tzatziki, onion, tomato, romaine and bell pepper. Both dishes came with sides of their signature house smashed potatoes. Filling and delish! Generous portions, too. We took the leftover souvlaki and potatoes home. A couple of Industrial Arts IPAs helped wash it all down.
Complementary miniature cannolis were brought to our table at the end of the meal as there were no fresh desserts at this seating. Nostimo fagito!
MP Taverna is located at 1 Bridge St. in Irvington next to the Metro-North station. Check website for latest hours of service. Free parking. Info: 914-231-7854 or visit www.mptaverna.com.
Back in The Fold
Raphael Leone has reopened the former Tauk restaurant space in Armonk and reimagined it as The Fold Taqueria & Tequila Bar. It highlights south-of-the-border food and drink with some American fusion.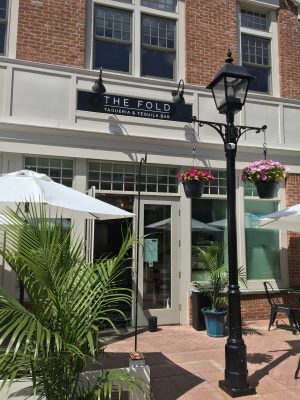 One side of the place is a take-out taqueria counter with a tempting display of specialties. A big blackboard lists the daily menu items. The other section contains a bar and lounge and dining room. There is outdoor seating along the bustling public promenade throughout the season.
The opening menu lists such dishes as vegan gazpacho (tomato, cucumber, red bell pepper, garlic, celery, lemon, sweet onion, parsley and basil); a variety of nacho combinations; traditional street tacos; bowls and salads; and "famous gourmet tacos," which includes cheeseburger, Thai chili tuna and lobster. The menu has kept its popular lobster roll, too.
The Fold Taqueria & Tequila Bar is located at 402 Main St., Suite 5, in Armonk. Open Monday through Saturday. Bar and lounge and craft cocktails. Happy Hour is 3 to 6 p.m. Free parking. Info: 914-219-5911 or visit www.thefoldtaqueria.com.
Mughal Place Prix Fixe Meals
While the popular luncheon buffet is still not operating, proprietor Mohammed Alam of Mughal Palace in Valhalla is serving a selection of multicourse prix fixe Indian specialties at lunch and dinner. Look for regional dishes such as lasuni gobi (cauliflower florets tossed with bell peppers, onion, garlic and green herbs); chicken barbecue kabab (marinated boneless chicken cooked in the tandoor oven); and lamb bhuna (pieces of lamb cooked in a medium spiced sauce of bell peppers, tomatoes and fresh Indian herbs). A glass of lassi will help wash it all down.
Don't forget the delicious house-made Indian breads.
Mughal Palace is located at 16 Broadway in Valhalla. Info: 914-997-6090 or visit www.mughalpalace.com. Alam also operates Ambadi, located at 141 E. Post Rd. in White Plains. Info: 914-686-2014 or visit www.ambadiusa.com.
Mama Sushi is Coming
Mama Sushi is part of a six-unit chain in New York City and New Jersey. The window sign along Mamaroneck Avenue in White Plains reads "Mama Sushi, More than Sushi, coming soon…"
Their menu touts Asian-Latino fusion specialties including Latin sushi, satays, lamb lollipops, Thai coconut tacos and specialty rolls. There are bento boxes, too. The executive chef is David Nunez. More information as it becomes available.
Mama Sushi is located at 170 Mamaroneck Ave. in White Plains next to Sam Ash Music and Cantina Taco. Info: Visit www.mamasushi.com.
Hudson Valley Bounty Online
Doorstep Market is an online platform for food and drink artisans all over the Hudson Valley and across the country. It's a good source to shop for quality craft culinary products produced locally. It is sprinkled with profiles and appetizing product descriptions. A fine way to support local food service.
To browse, visit https://doorstep.market/hudsonriver.
Foodie Talk With Chowhound
If you are passionate about your cooking and dining and you enjoy sharing your experiences, you may want to participate in an online discussion forum called Chowhound.com. Chowhound was originally founded by Jim Leff and Bob Okumura in 1997, foodies with an insatiable hunger for everything culinary.
Chowhound.com now sports a new colorful format and offers quick posting and response times on many of your favorite food-related topics, along with posts from regions across the country and abroad. There is a Westchester-Connecticut board, Hudson Valley board, Manhattan board, New Jersey board and others, along with cooking forums.
Join the conversation or just look in from time to time. There is no cost to register. Visit www.chowhound.com.
Morris Gut is a restaurant marketing consultant and former restaurant trade magazine editor. He has been tracking and writing about the food and dining scene in greater Westchester for 30 years. He may be reached at 914-235-6591 or by e-mail at gutreactions@optonline.net.