A Planet Fitness Christmas for White Plains HS
We are part of The Trust Project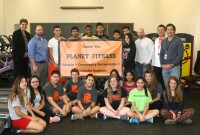 Steve Fugarino, a Highlands Middle School teacher, was having what he estimated was a casual conversation with his childhood friend Joe Franco, the Maintenance Manager for the 41 New York and Westchester County Planet Fitness Clubs, when Franco mentioned that Planet Fitness was expanding and moving to a new location at 250 Main Street, in White Plains.
Fugarino, who has been involved in the Tigers Baseball Program for 11 years, inquired if Planet Fitness had any interest in donating equipment that would be replaced.
Fugarino was quite surprised by the reply he received from Franco a few days later. "Joe got back to me a couple of days later and told me that the school had carte blanche. Whatever the school wanted regarding the equipment was offered," recalled Furgarino.
The generous donation offered to White Plains High School by Planet Fitness Clubs Owner, James Innocenti, led to the donation of 60 cardio machines and 37 Pin Selector machines to the White Plains Public Schools.
The majority of the donated equipment went towards an expansion of the White Plains High School Tigers Fitness Center with Highlands Middle School and Rochambeau Alternative High School also receiving equipment.
"We like to do a lot of things within the communities we operate and this was a good situation for us to give back to the White Plains community," said Innocenti. "We at Planet Fitness are aware that health and fitness is an important part of everyone's life. We wanted to be a part of the younger generation being part of it and starting them out the proper way."
Innocenti put an estimate on the donation at over $100,000. However, the Planet Fitness owner was being quite modest considering that the 60 cardio machines including, treadmills, arc trainers, elliptical trainers and bikes with the Pin Selection machines and free weights are worth over $300,000 when new.
Planet Fitness rotates their equipment every five years. The machines donated to WPHS came as Planet Fitness was relocating its White Plains facility and replacing equipment less then five years old. The equipment also still has five years remaining on the active warranties.
"This is an unbelievable donation that has literally transformed our fitness program," said White Plains High School Athletic Director Jennifer DeSena. "When you are able to affect hundreds and hundreds of students for years to come and have our physical education program have every single student on a piece of equipment that is student, teacher and curriculum friendly and current, it is a milestone in our program."
Planet Fitness also has offered to send a representative to WPHS to instruct the staff on how to maintain and use the equipment for peak performance.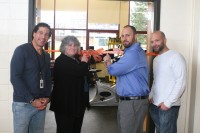 The equipment donated accentuated a project that in theory had been planned since October 2014. The plan was to transform two and half physical education classrooms into an open space with the hope of expanding the Tigers Fitness Center. "I do have to say that this project was Physical Education and teacher initiated in the beginning. We had a long range plan starting last October of expanding the Fitness Center, and then we came upon this incredible donation, so we are thrilled," said DeSena.
Under the supervision of Frank Stefanelli, Director School Facilities & Operations, crews knocked down walls, painted, put in a new floor and with the Planet Fitness Christmas donations; the culmination is a new Fitness Center at White Plains High School.
"This is an amazing school/community partnership with Planet Fitness," said WPHS Principal Ellen Doherty at the center's ribbon cutting ceremony last week. "I want to acknowledge Jennifer DeSena and our Physical Education teachers and our coaches, who all have this extraordinary vision for our students," said Doherty.
The Superintendent of White Plains Public Schools, Timothy P. Connors also was at the ribbon cutting ceremony. "Physical fitness is so important. My advice to all of you is to stay healthy and exercise and to learn the things on this equipment to help you through your lives," said Connors. "We in the White Plains School District have great students and great athletes and this donation is a real bonus."