A New Era in Town of Kent Officially Underway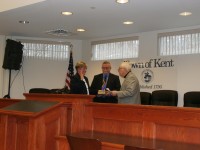 A major shift in the Town of Kent officially began last Wednesday when new supervisor Maureen Fleming was sworn into office, along with newly elected councilman Bill Huestis.
In front of a packed town hall, residents celebrated the beginning of a new era in Kent government after voters made a clear statement back in November they wanted change. Fleming and Huestis both expressed their excitement going into the New Year.
Fleming, who ran and beat incumbent supervisor Katherine Doherty soundly, vowed to find more ways to give citizens a voice in 2014. After being critical of the past administration's lack of transparency, Fleming said that's a major shift she wants to see this year.
"We're going to open up all town meetings to comments from people in attendance," she said. "We're going to have comments at workshops, comments a town board meetings. We want to hear what the people want."
Two projects Fleming is inheriting is the current sewer project underway and the construction of a cell tower at Smokey Hollow Court. Fleming said the town is currently being sued for the placement of the cell tower and she'll be monitoring it closely. And for the sewer district, which faced controversy, Fleming said it's already going in and the board must make sure procedures are followed.
Fleming said keeping taxes low is also a priority and she wants "at the end of the year people just as happy as they are today."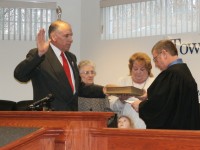 As for Huestis, one of his focuses is fighting the drug problem currently going on in the town and county. He said he wants to start a campaign working with the Carmel School District to get parents educated about the danger of drug use.
"We don't want to see kids getting into trouble because there's a drug issue," Huestis said.
Finding grant money for the town to use, as a way to keep taxes low and push economic development is also important, Huestis said.
"We're one of the highest taxed areas in the county," Huestis said. "But when there's a grant possibility, I think we need to explore all avenues as long as it matches a need we may have."
Among the other officials sworn is was former legislature chairman Richard Othmer as highway superintendent after he won an uncontested race. The other newly elected councilman, Paul Denbaum couldn't make the ceremony but he'll be sworn in at the first meeting of the New Year.