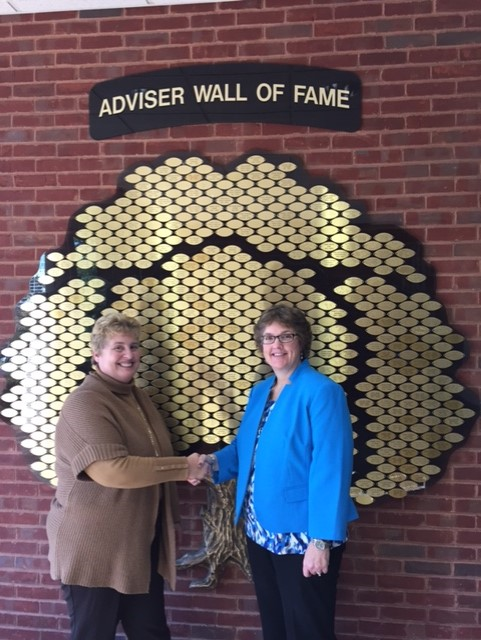 Carmel High School Principal Louis Riolo is pleased to announce that business teacher and FBLA advisor Mary Odell has been recognized by the national organization, Future Business Leaders of America as a member of the FBLA-PBL Adviser Wall of Fame. This is in recognition of Ms. Odell's commitment to making Future Business Leaders of America-Phi Beta Lambda a vibrant and growing organization.
The Adviser Wall of Fame was created to recognize advisers and state chairs that have made a difference and have contributed twenty-plus years of service to FBLA-PBL. There is no group as important as this in leading the young members of the organization. "It is a great achievement, and we all appreciate Mary's loyalty and commitment to this program," said Mr. Riolo.
The Future Business Leaders of America Chapter (FBLA) at Carmel High School was started in 1990 by Ms. Odell and it is still growing and going strong. It is the largest club at the high school and membership today is at 106 members.  The Carmel High School FBLA chapter has had many members who served as state and national officers throughout the years. Chapter members and teams have also won numerous state and national recognitions. For example, in 2016 the chapter won first place in New York State for "Outstanding FBLA Chapter," and in 2017, the chapter placed second.  Ms. Odell stated, "I enjoy watching the students grow, mature and blossom through the FBLA experience. They join FBLA their first year having no clue what FBLA is really about. Then, when they are seniors, they have become true 'leaders.'" The Carmel FBLA members are heavily involved in community service projects. Of this, Ms. Odell said, "I am particularly proud of the amount of community service the chapter participates in. Our members are always willing to lend a helping hand."
The FBLA-PBL Adviser Wall of Fame can be found at www.fbla-pbl.org/about-fbla/adviser-wall-fame.