$55M Mt. Pleasant School Bond Likely for Voters in November
We are part of The Trust Project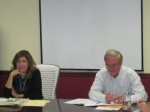 Mount Pleasant School District residents will decide whether to support a $55,855,000 capital projects bond this fall that would focus on improvements at the middle school and high school campus.
Trustees reached consensus last Wednesday night to schedule a referendum for Saturday, Nov. 15. It is expected that they will officially schedule the vote at this week's meeting.
The board has not determined the length of the bond, although 20 years is likely. Director of Business Administration Lisa Sanfilippo said a 20-year bond would increase property taxes for the average district homeowner by $650 a year.
Superintendent Dr. Susan Guiney said school officials and the district's Facilities Committee, which had worked for about a year on the proposal with staff, parents and residents, also explored a bond of about $75 million, but concluded that voter approval would be difficult to obtain for a proposition of that size.
About 10 years ago a bond was approved by district voters emphasizing Hawthorne and Columbus elementary schools. The proposition being considered would focus on work in the secondary schools and upgrade those facilities to provide programs "for our 21st-century students," Guiney said.
Low-interest rates and construction costs make it an appropriate time to address capital needs in the district, she added.
The list of capital projects includes a new two-story science wing containing additional labs; a new artificial turf athletic field; new fitness rooms and lockers; new physical education instruction spaces; high school auditorium renovations; new roofs and ventilation systems; a new defined entrance for the middle school; creation of a second access road to the campus; and the replacement of ceilings, floors and lighting at both schools.
Guiney said if the bond is approved, construction would begin during the next school year and be completed by 2018.
Most of the projects are likely to be eligible for some state aid, Guiney said, but it is uncertain at this point how much the district would recoup. Spending related to the bond would not count against the tax cap, she said.
Board of Education President James Grieco said district taxpayers earning less than $500,000 will receive a rebate check this fall, which should ease some of their burden. The rebates are for taxpayers in districts that have adhered to the cap.
Next fall, there will be another rebate for taxpayers earning under that threshold and whose districts are consolidating services. The state has not yet released the guidelines to prove a district is sharing services.