Residents Concerned by Herbicide Use in Philipstown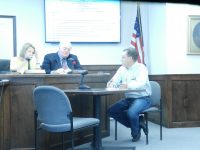 Philipstown residents and elected officials, including Putnam County Legislator Barbara Scuccimarra, are calling on the county highway department to stop using herbicides along a road on the west side of the county.
Following several complaints, the health committee discussed ceasing the use of herbicide along Fishkill Road in Philipstown, which is near a water source. While the herbicide is used to control vegetation growth on county roadways, residents in the area are worried that it's applied too close to the town's drinking water.
"It's been very troubling to the people that use the water from that source to think that a herbicide is sprayed," Scuccimarra, health committee chairwoman, said at the Aug. 9 meeting. "The water is right next to the road."
While there is apprehension, highway department officials said the spray was applied with permission from the New York State Department of Conservation and the federal Environmental Protection Agency. Scuccimarra said during the meeting the highway department did "everything by the book."
Highway department deputy commissioner John Tully said at the meeting the practice is standard for public works departments along rail tracks and highways. By cutting down on the vegetation with the pesticide, Tully said it's the easiest way to ensure drivers have the best line of sight.
This use of herbicide, which is state licensed, is applied throughout the county, Tully said. In a memo to the committee, highway commissioner Fred Pena said when the herbicide is properly applied it is more effective than the continual use of large diesel and small gasoline mechanical equipment.
"This is considered a best practice," Tully said of the herbicide use.
But Scuccimarra said with such an uproar from her constituents, the highway department could not use herbicides anymore in the area.
Tully said the department would continue to look into better practices and listen to ideas from public officials.
Philipstown Councilman Michael Leonard and Cold Spring Trustee Lynn Miller both spoke out about the issue during the meeting.
Miller said village officials have brought this issue to the attention of the county twice. When the village reached out the first time months ago the highway department assured them it wouldn't happen again, Miller said.
She said there are other options for the highway department to cut down on vegetation that are more environmentally friendly.
"I would like to emphasize we really do not want this here," Miller said. "Pretty much everyone is concerned and we do not want this to happen."