White Plains Outdoor Arts Festival Sat. & Sun.
We are part of The Trust Project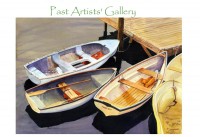 White Plains Outdoor Arts Festival. Saturday & Sunday, May 30 & 31, 10 a.m. to 5 p.m., Tibbits Park, 1 North Broadway at Main Street, White Plains. Fine Arts, Fine Crafts, 53rd Annual Juried Show. Also: children's workshop, student art exhibits, emerging artists display & more. Food is available for purchase. Admission is free. Proceeds support White Plains High School Art Scholarships; www.whiteplainsoutdoorartsfestival.com.
White Plains Outdoor Arts Festival Awards $14,000 in Scholarships
Every year White Plains High School seniors are awarded college scholarships from the proceeds of booth sales at the White Plains Outdoor Arts Festival. This year, the 53rd for WPOAF, six students were presented a total of $14,000 in college scholarships on May 19 at a ceremony at City Hall.
The top scholarship prize, in the amount of $4,000, was awarded to WPHS Senior Max Crawley. Max is already an award-winning artist, having won the City of White Plains reusable bag design contest in 2012 and the Katonah Museum of Art's invitation design contest for its 2015 Young Artists exhibition.
Additionally, three scholarships in the amount of $2,500 each were given to Devan Lawrence, Martina Poppe, and Julio Santos, a $1,500 scholarship was awarded to Arya Vasudevan, and $1,000 was given to John O'Shea.
These six students were recognized for their "exceptional talent and devotion to their art," said WPOAF Scholarship Chairperson D.D. Dolan, who made the award presentations.
The scholarships will be sent directly to the college or university where the students enroll next year, to continue their artistic pursuits in a variety of mediums.
The students' scholarship winning art will be on display at the 53rd Annual White Plains Outdoor Arts Festival taking place on Saturday, May 30 and Sunday, May 31, from 10 a.m. to 5 p.m. daily in Tibbits Park, at North Broadway and Main Street in White Plains. The festival features free admission and approximately 70 artists displaying paintings, photography, ceramics, leather work, textiles, jewelry and many other handcrafted items. The attractions also include children's art activities, an exhibit of the scholarship winners' work, and an emerging artists' display. There is also the very popular raffle tent with items donated by the participating artists, as well as a food court where visitors can dine al fresco.
The student scholarships were made possible by the efforts of the all-volunteer WPOAF organizing committee. For 40 of its 53 years, WPOAF has donated the net proceeds of the festival to the scholarship fund. The committee estimates it has awarded in excess of $170,000 over that time.