From Shore to Shore Exhibition Opens at ArtsWestchester
We are part of The Trust Project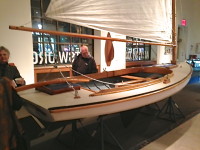 The opening reception for the Folk Arts Exhibition From Shore to Shore was held Thursday, Jan. 17 at ArtsWestchester in White Plains. The exhibit full of life-size boats complete with rigging, paddles and oars documents the history and tradition of boat building in Westchester on Long Island Sound and the Hudson River and on Long Island.
The exhibit will remain in White Plains for six weeks before moving to Port Washington, Long Island.
Co-curators of the exhibition Tom van Buren of ArtsWestchester and Nancy Solomon of Long Island Traditions collaborated to pull together stories of the different boat builders.
"I grew up on boats in Mamaroneck and was fascinated with the craftsmanship and occupational and recreational aspects of our maritime culture," Solomon said. "The traditions of the waterways are vanishing. This exhibit is an attempt to keep those traditions alive with programs involving the people who are carrying on the traditions."
The crafts on display were built at the local educational boat building programs Rock the Boat and Community Boatworks of the Hudson Valley. A kayak display on the second floor of the gallery shows a work in progress.
Graphic panels along the gallery walls tell the story of the history of boat building in the region with information on regional boatyards and master craftsmen. Boat-building tools are also featured.
A pamphlet explains that builders and restorers of boats embody a centuries old tradition of skills while handling materials as diverse as teak wood, oak, aluminum and Kevlar. Many craftsmen in the region hail from around the world, while others come from local families of boat builders who have passed down the skills and secrets of the trade for generations. Where the industry once employed thousands of skilled craftsmen, only a small number keep the trade alive today, but their skill and knowledge are indispensible to the still thriving boat trade and the maintenance of the region's fleet of commercial, government and pleasure boats.
Free Saturday public programs include a conversation with the craftsmen, February 2 at 2 p.m. and a conversation with Maritime historians and waterfront preservation specialists on February 9 at 2 p.m.
ArtsWestchester is located at 31 Mamaroneck Avenue, White Plains. Call 914-428-4220 for more information.