We are part of The Trust Project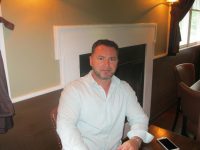 Scarsdale resident Tim Demaj had a simple explanation last week as to why he and his partners decided to open 202 Steakhouse in Yorktown about 14 months ago.
"I thought the community around here could use a nice steakhouse," Demaj said. "People are very happy so far."
One of the key aspects to the quality of the steaks served at the restaurant is the dry aging process done at the site, he said. Steaks served at 202 are aged for between four and five weeks, he said, adding only a few restaurants age their own steaks. The aging process gives the steaks. "more flavor," he noted.
Demaj said his customers' most ordered steak is the Porterhouse. The menu at 202 also features a variety of seafood offerings, as well as pastas.
On Sundays, between 11 a.m. and 2 p.m., a buffet brunch is offered at 202. Some of the brunch offerings include salads, seafood, chicken and steak, as well as unlimited Mimosas and Bloody Marys, Demaj noted.
The restaurant's bar menu includes dry aged beef hamburgers that are made in-house, quesadillas and seafood. During happy hours at the bar, which are between 4 and 7 p.m., 25 percent off drink specials are available, Demaj said.
The establishment has seating areas that can be used for parties. "We can provide parties for up to 100 people," Demaj said. Virtually any type of party, including birthday, graduation and corporate parties, can be held at the steakhouse, he said.
Demaj, who has been in the restaurant industry for nearly two decades in many capacities, said most of his restaurant's customers reside in Yorktown, Somers and Mahopac.
Demaj outlined what he felt were the keys to the success of 202 Steakhouse. "We keep providing customers with very good food," he said. "They are happy. We have had great feedback. They love it. Like every other business, it takes time, but we're getting there. I'm sure that we will do very well."
202 Steakhouse is located at 2 Old Tomahawk St. in Yorktown. For more information, call 914-248-8100, visit 202Steakhouse.com or send an e-mail to contact@202steakhouse.com.