2013 Fordham Athletic Hall of Fame Includes Three from Westchester County
We are part of The Trust Project
The 2013 Fordham University Athletic Hall of Fame Awards were presented, on Saturday, Jan. 26, on the Rose Hill Campus of Fordham University, in the Bronx.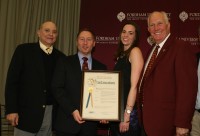 The Fordham Athletic Hall of Fame Class of 2013 included: Frank McLaughlin ('69) Athletic Director/Men's Basketball; Michael Debany ('54) Tennis; Michelle Maguire Kennedy ('03) Swimming and Diving: Jennifer Akerley ('01) Rowing; Matteo Cucchiara ('65) Track and Field; Paul Darrigo ('89) Baseball; Kerstin Maike Greene ('07) Track and Field; Sara Marie Kinney ('07) Softball; Wayne McGuirt ('65) Basketball and legendary Rams Head Basketball Coach Tom Penders.
McLaughlin was a standout basketball player at Fordham, who was drafted by the NY Knicks after graduating in 1969. He was an assistant coach under Fordham Head Coach Richard "Digger" Phelps in 1970-71. The Rams sustained a 26-3 record that year, which was captioned by a NCAA Tournament Eastern Regional appearance, while finishing ninth in the nation.
However, McLaughlin, a long-time Braircliff Manor resident, fixed his name in Fordham history by leading the Rams Athletic Department for 27 years. McLaughlin was Director of Fordham Athletics for 13 years, before being promoted to Executive Director of Intercollegiate Athletics and Recreation in 1998.
McLaughlin was promoted to his present position of Associate Vice President of Athletic Alumni Relations and External Affairs/Athletic Director Emeritus in May 2012. He was succeeded as Fordham's Athletic Director by David Roach.
McLaughlin's dedication to Fordham Athletics is unquestionable. "I remember what it was like to be student/athlete at Fordham. I want our student/athletes to know that they mean a lot to us and when they lose a game, I take it personally and when they win, I am happy for them," stated McLaughlin.
McLaughlin resided in Briarcliff, during his entire 27-year tenure as Department Head of Fordham Athletics. He was also the President of the National Invitational Tournament for 10 years from 1990-2000. "I have been very fortunate to have had a blessed life and hopefully it will continue," conveyed McLaughlin.
Westchester County Executive Robert Astorino is a 1989 graduate of Fordham University. Astorino revisited the Rose Hill Campus to present McLaughlin, with a Proclamation for his dedication to Fordham Athletics. Astorino proclaimed, Saturday, January 26, 2013, as Frank McLaughlin Day in Westchester County.
"Frank McLaughlin basically started when I came to Fordham as a student. Therefore, I went through my four years at Fordham with Frank as Athletic Director and we have stayed in touch ever since," said Astorino.
The County Executive also presented Certificates of Merit to the nine other members of the Fordham Athletic Hall of Fame Class of 2013, while extending a heartfelt appreciation to the other two residents of Westchester, who were inducted this year.
Maguire Kennedy was inducted into the Hall of Fame this year for Swimming and Diving. Ironically, after graduating from Fordham in 2003, her initial job was supervising the pool and as a swim coach at Marymount College in Tarrytown. Presently, Maguire Kennedy is married to her husband Todd and working in the Fundraising Department at Hackley School and residing in Tarrytown.
As a senior Maguire Kennedy won the 2003 Hobbs Family Award and was designated as Fordham's Most Outstanding Female Athlete. The Tarrytown resident set two individual records and two team records at the 2002 A-10 Swimming Championships. Maguire Kennedy, as a member of the Rams Swimming Team still holds the school-record in the 200 free relay.
"I think our service to the Fordham teams (of today) is for them to break our records and be better than we were at that time. I think if what I accomplished in swimming helped my coach recruit then to me that is the honor," declared McGuire Kennedy.
Debany ('54) is an Eastchester native, who presently resides in Somers. Debany was inducted this year for Tennis, as a four-year starter on the Fordham Men's Tennis Team. Debany, as incredible as it sounds, lost only one game during his four-year career on the Rams Men's Tennis Team. Debany's record at Fordham remains, 89-1.
"I had 89 wins and one loss in four years. All four years at Fordham," stated Debany, who was the Westchester County Men's Singles Champion at 18 years old. Debany, presently 81 years old, was also the Singles Champion of the initial United States Army Tennis Team. He was also named the captain of the first U. S. Army Tennis Team.
"I cannot even describe what this feels like; this is a wonderful, wonderful feeling," proclaimed Debany. "I graduated 58 years ago and to be awarded for something now, I cannot even explain the feeling," emotionally expressed Debany, who in two months will celebrate his 60th year of marriage to his high-school sweetheart Joan.
"It is nice to see three Westchester County residents inducted this year. Westchester is Fordham country. There are many Fordham graduates that live in Westchester," stated Astorino, the Westchester County Executive.