Business Profile: My Sherry &more, Briarcliff Manor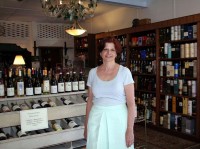 My Sherry &more is not what you'd call a regular neighborhood liquor store. Owner Judy Brazong likes to think of her shop as Westchester's go-to destination for fun, esoteric brands of fine wines and spirits.
Last year, Brazong purchased the store, formerly known as Briarcliff Wines & Liquors.
A former broadcast business manager for the advertising agency J. Walter Thompson, Brazong went into the retail industry after being laid off in 2009. She looked at various opportunities before settling on the liquor business.
Because she had experience in business and was also an accountant, Brazong was confident about taking on this new challenge. Her love of fine wine factored into the decision, and her business partner, John Richards, also brought a wealth of experience on the world's best-known and not-so-well-known spirits.
"Here at My Sherry &more, we're about finding brands that we like and really standing behind them," Brazong said.
Take, for instance, the new low-calorie vodka called Voli, a premium brand of French vodka that has been around for a few years but is now owned by celebrities Fergie of The Black Eyed Peas and Pitbull, the rapper, actor and record producer. The product is made with natural flavors and contains electrolytes.
Another brand that Brazong and Richards like to tout is the Blackwell Fine Jamaican Rum, produced by Chris Blackwell, founder of Island Records. Earlier this spring, Brazong hosted a wine-tasting event at her store as a way of introducing the brand. Blackwell saw the video on the store's website and later sent Brazong a copy of his book, "The Story of Island Records," to thank her for her efforts.
But the store is much more than celebrity brands. An entire wall is devoted to an array of chardonnays, pinot noirs, and Spanish and merlot Italian wines. On an opposite wall, customers will find a plethora of spirits, including brandy, rum, vodka, whiskey and a variety of liqueurs.
The partners like to give credit to what they call the "smaller guys" in the business, such as Finger Lakes Distilling, a company that produces McKenzie Rye Whiskey, made from New York State–grown grain and distilled using old-time techniques.
While My Sherry &more's regular customers are slowly being introduced to different brands, Richards, who has worked as a bartender and manager, said the general public often becomes aware of new alcoholic brands after discovering them in a cocktail. Customers will often come into the store looking for the ingredients for a great Manhattan or other cocktail, or they may have found an interesting recipe for a margarita that requires a specific brand of alcohol, Richards explained.
"There's an individual curiosity that drives some of our customers' requests, but it's also about what they find in bars and restaurants," said Richards, currently a bartender at the Garrison Golf Club.
There are a lot of recognizable brands at My Sherry &more that customers can feel comfortable with, but there's nothing wrong with branching out, Brazong said. In fact, she is passionate about featuring and promoting new, unique, local and artisanal brands of fine spirits.
In addition to catering to walk-in customers, the store also collaborates with the nearby gift store and gourmet market Holbrook Cottage, providing the perfect wine for a gift basket or pairing wines and other delicious drinks for a cooking class. Richards often handles the catering end of the business, supplying a wide variety of alcohol to customers hosting large and small events.
Brazong has a cadre of discerning customers who look for high-end products such as Maison Joseph Drouhin, a select white wine, in addition to a variety of chablis, which she keeps on stock or orders upon request.
Getting the word out is often best done through the store's blog, which Brazong updates regularly.
My Sherry &more, located at 1245 Pleasantville Rd. in  Briarcliff Manor, participates in the village's 1st Thursday … Night Lights, an initiative of the Briarcliff Manor Chamber of Commerce. The store is open Tuesday 12 to 7 p.m., Wednesday through Friday 11 a.m. to 7 p.m., Saturday 10:30 a.m. to 7 p.m. and Sunday 12 to 5 p.m. The store is closed on Monday. For more information, call 914-941-1536 or visit www.mysherryandmore.com.