Parents and Students Call For Salary Freeze in Carmel Schools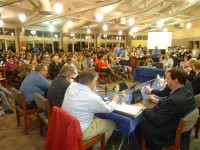 More than 150 parents and students of all ages packed the March 13 Carmel Central School District Board of Education meeting to protest a proposal from district officials that the freshman and junior varsity student athletic programs and the alternative high school be closed down next year in an effort to balance the 2012-2013 school district budget.
During two open public comment sessions, many parents and students suggested that if all annual, contractual salary increases for faculty and staff were frozen student programs could be preserved.
One mother, who spoke through tears, said she was impressed with Carmel's teachers and did want to attack them but also said that their current yearly, contractual salary increases were unsustainable and a luxury that the school district community could not afford; a sentiment that was expressed numerous times throughout the meeting from both parents and students.
"Please ask yourself: can you live without a raise indefinitely?" she said, a question that was met with loud applause, whistling and "yeahs" from the audience. "It's unconscionable and offensive to this community in these harsh economic times. We are a community bleeding from the rising costs of our taxes…do the kids' needs drive the budget or the demands of financially impossible contracts?"
The woman asked if the school board and district officials had even pursued this course of action and at the close of her comments she urged them to reopen negotiations with the bargaining units representing teachers and staff, if at all possible, to see if a salary freeze could be implemented.
According to state law that governs the negotiations of union contracts for public employees, school district officials and members of Boards of Education are not at liberty to publicly divulge what is said during what are confidential negotiations with union representatives.
Another mother who has three Carmel students said she hoped voters in the school district would take into consideration that an override of the tax levy cap would amount to an additional $8 per month for someone who owned a home assessed at $350,000, according to numbers provided by the school district.
"It may be unrealistic to think that all programs slated for elimination will survive this budget process, but slashing entire programs like modified through JV sports, even considering that the varsity programs will have a shot at being viable is equally unrealistic," she said. "I know the taxpayers in our district, myself included, are angry and want to send a message. Unfortunately the only recipients of this message will be our students."
At the outset of the meeting, Superintendent Dr. James Ryan said the Carmel School District was one of only a few that had presented the school district community with a viable override budget that would allow some student programs — including the freshman and junior varsity sports programs — to be kept in the spending plan for next school year, if 60 percent or more of voters approve of doing so.
One mother who spoke questioned whether sports had been proposed for elimination as a means to strategically drive voters to the polls on May 15.
"I think maybe the motive behind it is that everyone who has a child who play sports — the 300 children who are going to be sitting home doing nothing, instead of playing sports — those parents will want to go out and vote to override the [tax levy cap]," she said, adding that she believed cutting the sports programs was unacceptable. "Because if you don't have modified, freshman and JV…in three years who will be playing varsity sports?"
That same mother said she believed eliminating the freshman and junior varsity sports programs could have a long-term negative impact that would make it difficult for people in the school district to sell their homes.
"Who would ever want to move into a school district where you don't have sports?" she said. "Because if I knew seven years ago that sports could possibly be cut, I never would have moved here."
Speaking on behalf of himself and his colleagues, Board of Education President Richard Kreps said they were not in favor of the proposal to cut student sports programs next year.
"I have been accused numerous times of being all about sports and I always say I'm not all about sports, but I am a lot about sports," Kreps said. "I cannot see not having JV sports. I cannot see us not have freshman or modified [sports]. Will that occur? Well, let's let this play out….there is only so many dollars. We have been faced with this tax cap dilemma."
While there is a little under two months before voters will go to polls to either vote "yes" or "no" on the proposed budget that is eventually put forth, there is not much time remaining for the public to weigh in on the particulars of what will remain in the 2012-2013 schools budget as only an approximate 21 days remain before the Board of Education must approve a formal budget proposal on April 10.
A Board of Education meeting is scheduled for 7:30 p.m. on Tuesday, March 27 in the library at Carmel High School, at which it is expected the 2012-2013 school year budget will be discussed.