Assembly Candidate Nabbed in '98 for Soliciting Prostitute
We are part of The Trust Project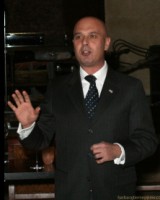 The Daily News reports that Dario Gristina, a Putnam Valley resident who announced his intention to run for New York Assembly, has an arrest record that includes soliciting a prostitute and driving while impaired.
The news came out after Gristina's former wife, Anna Gristina, was indicted on Monday in Manhattan for running a brothel on the Upper East Side.
The two were married in 1994 and the divorce was finalized in 1998. Both have since remarried. They have one son together.
In 1998, Dario Gristina was arrested for soliciting a prostitute in Manhattan, The Daily News reports. The article said that Gristina later pleaded guilty to disorderly conduct.
The Daily News also reports that, in 2000, Gristina plead guilty to impaired driving.
Gristina, a Republican, announced his intention to run for the Assembly in December. Initially his plan was to run against Assemblywoman Sandy Galef (D-Ossining).
The proposed redistricting lines changed the Town of Putnam Valley from being in that district to the district currently represented by Assemblyman Steve Katz (R-Yorktown).
At the time of the redistricting news, Gristina said he intended to continue his run for an assembly seat, even if he has to primary a fellow Republican.  It is unknown whether Gristina still intends on staying in the race.
The new district lines have not been finalized yet.
Gristina is the CEO of Genergy, a New York City-based energy and utilities monitoring and management firm.
Messages for Gristina have not yet been returned.