Common Goal Bonds Mahopac Relay for Life Participants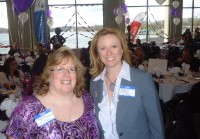 The 140 members of the community who attended the kick-off dinner for the annual Mahopac Relay for Life all have unique and interesting stories of how they got involved in the 24-walk around the track at Mahopac High School, taking place this year from Saturday, June 2 to Sunday, June 3, and all share a common purpose: to work towards finding a cure for the disease that has deeply impacted their lives and those of their loved ones.
The owner of AON Physical Therapy and Wellness Bryan Kelley underwrote the kick-off dinner held at Four Brothers Restaurant in Mahopac. Through his work, he helps cancer patients get back on their feet after surgeries and grueling chemotherapy treatments.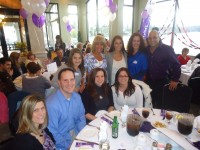 He was inspired to get involved in this year's Relay after his secretary Claudette Scala, who has walked in Relay for the past nine years, told him about the event.
"It's such a great cause," Kelley said.
Scala, a 15-year Carmel resident, and her friend Ursula Vucci, a life-long Mahopac resident, are both cancer survivors and nine years ago started Team 2 Friends, 2 Cancers, 2 Cures.
Scala said that the team raised $7,500 last year and hoped to double that this year.
Asked the grand total to-date the team has raised to find a cure, Scala said they didn't keep a tally, but focused  on walking instead.
"We just want to keep going to find that cure," she said.
Co-workers, friends and family, including her daughters Renee and Amanda, all participate on the team.
"I get all of my friends into it, too," said Renee, who also participates in a dance performance with A&E Dance studio on the day of the walk. "It's always to a survivor-themed song."
Across the room, sat the No. 1 highest fundraisers throughout the history of the Mahopac Relay for Life: Team Driving for a Cure.
Comprised of current and retired Carmel Central School District bus drivers and their families, the team is captained by Jill Hughes, who has been a school bus driver for 25 years, and her husband Russ. Last year, the team raised $30,001.50.
"Our goal was to break $30,000," said Russ.
The team strives to do fund-raising for cancer research throughout the year.
"We try to do a little bit of everything around Putnam County. We spread it out a little bit," said Jill, who is a cancer survivor herself.
Included in the 100-member team are retired bus drivers Barbara Virtuoso, who drove a bus for 33 years, and Gerry Ulich, who drove a bus for 23 years.
"We are all a good team, we work well together," Virtuoso said. "The fact is that cancer needs a cure and that is all we are working for: a cure."
The co-chairs of this year's Relay are Heather Strickland and Brigett Lummel.
After Strickland's mother passed away from cancer in 1996, she signed up to participate in Relay.
"I would come for an hour, walk, and leave," Strickland said.
But in 2004, Strickland was diagnosed with cancer and two years later, after having stood watching the luminaria ceremony with her head bare from the side affects of chemotherapy, she formed Team Bells & Thistles and now has been the co-chair of the Mahopac Relay event for the past two years.
"Relay is as much a part of my life as breathing," she said.
Co-Chair Lummel began walking with Team Bells & Thistles six years ago and in 2008, experienced a devastating loss when a year after diagnosis, her mother died from cancer. The Relay following her death was overwhelming for Lummel, who said she spent the day awash in tears.
"It wasn't as much a sad cry as it was a cry of relief. I was surrounded by people that understood what I went through as a caregiver and what it was like to lose a loved one to cancer," Lummel said.
Last year, 95 teams raised $276,000 to find a cure for cancer. Organizers said that this year they hope to have 100 teams and top the $300,000 mark.
But aside from numbers, organizers said they always are grateful and proud of the endless support that is shown by the community every year.
Physically walking the track is just one way local residents can participate in Relay for Life. Donations can be made by going to www.relayforlife/mahopacny where people can find out about ways to get involved, big and small.
Luminarias can be purchased on the website that will be individually dedicated to celebrate the survival of a loved one and to honor the memory of those who have passed.