Photos: Women of Distinction Hall of Fame Induction
We are part of The Trust Project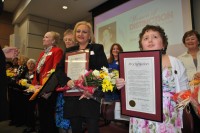 There are many women whose work has left a lasting impression on the local community. Last Friday night, over 30 women from northern Westchester, Putnam and Dutchess were inducted into the Women of Distinction Hall of Fame sponsored by state Sen. Greg Ball. The women were honored for their service and dedication to their communities.
"The women who are here today were nominated by their communities, hand-picked because they chose a path of leadership, living a life of service before self," said Ball. "Each one of these women here today is so well-deserving of this honor because they have built a reputation of action, compassion and integrity, a path that that stands as an example to all."
Each municipality within the 40th State Senate District nominated a woman it felt was worthy of being honored.
The Westchester women honored included: Mary Beth Kass of Bedford, Dr. Virginia Rederer of Buchanan, Sheila Guida and Marie Turner of Cortlandt, Rosalind Morrissey of Croton, Joann Vasi of Lewisboro, Patricia Reilly of Mount Kisco, Janice Hellwinkel of North Salem, Thelma Barlow of Somers, Katherine Quinn of Yorktown and the Founding Mothers of the Hudson River Healthcare Center, Jeannette Philips, Willie Mae Jackson and Mary Woods of Peekskill.
From Putnam the women recognized were Brewster-Carmel Garden Club (by the Village of Brewster), Dona DiMaggio of Carmel, Ann Maire Baisley of Kent, Councilwoman Ginny Nacerino of Patterson, Betty Budney of Philipstown and Kathleen McLaughlin of Putnam Valley.
The Dutchess women who were distinguished were Ann Linden of Amenia, Phyllis Hughes of Beekman, Caroline Reichenberg of Dover, Ann Mancini of Milan, Julie Schroeder of Northeast and Nancy Tanner of Pawling.
Former Congresswoman Sue Kelly, a Katonah resident, who knew most of the nominees personally, was one of the keynote speakers. "There isn't anyone being honored here tonight that hasn't expanded our sense of community," said Kelly, as she told anecdotes about the honorees. "Because of all the volunteer work they've done, every community that is represented here today is indebted to these women."
Putnam County Executive MaryEllen Odell, the first woman ever to hold the executive position in that county, agreed with Kelly.
"Throughout my career, I have been side by side as a working mom with the most amazing women, who give up everything they have for their families," said Odell. "As we've grown older we've had to take care of our parents, grandparents and children. None of it is easy, but we keep the joy in our heart, it all becomes very easy."
Ball nominated three additional Mahopac residents to the hall of fame: Mary Monte, Antoinette DeBellis and 13-year-old Erin Bentivegna.
Monte is the chief of staff of the ladies auxiliary to the Veterans of Foreign Wars, Department of New York. She is retired from being the administrator of the first multi-practice dental facility licensed in New York City and as an oral surgical assistant.
While serving four terms as president of the Ladies Auxiliary to the Veterans of Foreign Wars, Post 5491 in Mahopac, Monte and the auxiliary received several presidential citations and first place awards from the Veterans of Foreign Wars, Department of New York. Monte also received national recognition in 2009-2010 as chair of the Department of New York in the youth activities program, and in 2010-2011 as chair of the Department of New York in the legislative program.
De Bellis is the owner of De Bellis Agency, a local small business now associated with The Albano Agency in Mahopac. She is a breast cancer survivor and a volunteer for many different organizations and causes.
She currently serves as a board member of Community Cares, a community-based not-for-profit with a network of volunteers and businesses operating with the main goal to support families in medical crisis, such as families with school-aged children whose parent is undergoing a major medical diagnosis, like cancer or debilitating treatments. De Bellis also volunteers with the Jimmy McDonough Foundation, which offers financial assistance to families struggling with a medical crisis.
She has previously served as president of the Austin Road Elementary School Parent Teacher Association, and has volunteered with the Mahopac Sports Association, the Putnam County Columbus Day Festival, the Italian American Club of Mahopac, DARE, and Mahopac Schools and Putnam Valley Schools safe driving programs.
Bentivegna is a seventh grade student at Mahopac Middle School, and a cancer survivor. At only four years old, Bentivegna was diagnosed with a benign brain tumor. After having surgery to remove it and a year and a half of treatment, she was once again well. Then in November 2006, doctors told Bentivegna that she had a cancerous kidney tumor. After her kidney was removed, Bentivegna faced six months of chemotherapy. Again in July of last year, Bentivegna was told she had another tumor on her brain that entailed surgery and then months of treatment that meant she was not able to go to school. Having fought and defeated cancer three times in her young life, she is now back at school.
Community Cares honored Bentivegna with the Light of Hope Award in 2011.
The Women of Distinction Hall of Fame was designed to honor outstanding women from throughout the 40th Senate District. Each city, town and village within the 40th State Senate District was asked to nominate a woman to be honored at the event.
Several women were recognized posthumously including Pearl Woods who was also one of the Founding Mothers. Laurie Gagliardi of Lewisboro, Wilma Rogalin of Pound Ridge and Eleanor Fitchen of Southeast were also honored posthumously.