Lowey Presses for Domestic Violence Funding
We are part of The Trust Project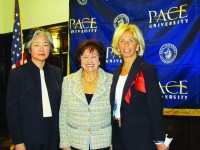 Congresswoman Nita Lowey joined Westchester County District Attorney Janet DiFiore Monday to advocate for the reauthorization of the Violence Against Women Act, legislation she said provides "essential" funding to the fight against domestic violence.
"This is such a critical piece of legislation, and we appreciate your advocacy because it is being blocked in the House and the Senate," Lowey told the crowd of about 40 who had gathered in the Tudor Room of Pace University Law School's Preston Hall in White Plains.
Lowey said domestic violence was down by 58 percent since the initial passage of VAWA in 1994, but added that there were still "far too many tragedies" — such as one in five women being sexually assaulted in college.
"That's why we must reauthorize VAWA — to end the scourge of violence against women," she said.
The congresswoman said she's disappointed funding for the bill has been held up in partisan gridlock.
"Amazing. This is 2012. It's time to put divisive politics aside," Lowey said. "The safety, health and protection of women should not be caught up in political gamesmanship."
DiFiore said the funding VAWA provides is critical to ensure that Westchester County is able to effectively advocate for victims of sexual violence.
"The funding we receive through VAWA is, in part, what allows us to effectively prosecute," she said. "It's … important that our goal be and is and always will be that victims make their way to the end of their cases, to that safe and protective place."
Also speaking at the event was Jane Aoyama-Martin, director of the Pace Women's Justice Center.
She said lawyers have a responsibility to fight for women and end "intimate-partner violence."
"VAWA has helped us to do all of this by providing us with the resources needed to make systemic changes," she said.
Ann Ellsworth, the executive director of the Putnam/Northern Westchester Women's Resource Center, was in attendance and said it's important that heavy hitters like Lowey and DiFiore have come to bat for the legislation.
"Without the reauthorization, there's structure within which money gets allocated. There's no law that says it has to," she said. "Without VAWA, which is our foundation, no one's going to have to do it. And when you don't have to do something, you know what happens."