Lowey Assails GOP's Proposed Medicare, Medicaid Cuts
We are part of The Trust Project
Congresswoman Nita Lowey proclaimed last week that the Republicans' budget plan will cripple Medicare and Medicaid for millions of Americans who depend on the programs.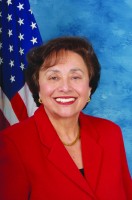 Speaking at Blythedale Children's Hospital in Valhalla last Friday, Lowey visited the hospital in response to Wisconsin GOP Congressman Paul Ryan's Medicare and Medicaid proposal that is part of the Republicans' budget and which cleared the House Budget Committee two days earlier. Ryan's plan would see funding for Medicaid cut by $810 billion over 10 years and increase prescription drug costs for some seniors by $11,794 over 10 years, Lowey said.
"This budget would have a devastating impact on Medicaid and Medicare," Lowey charged.
She praised the hospital's staff and the work that is done; however, many of Blythedale's patients are on Medicare.
"It is a special privilege to visit this extraordinary place," Lowey said to the staff. "I can't stress how important you are to the community. What would we do without you?"
Lowey, who is running for re-election in November, said that she is part of a session with sharp partisan differences that are adversely affecting the lives of ordinary citizens.
"I keep telling Paul Ryan that you are wrong," she said. "I can't believe the double talk. Fiscal responsibility cannot be achieved with this budget. Families are struggling."
The congresswoman added that the GOP's proposed budget would hurt the health care industry, which is vital to New York State's economy.
Larry Levine, president and CEO of Blythedale Children's Hospital, also expressed his concern.
"Many children could lose their eligibility and not be covered," Levine said. "We are opposed to any indiscriminate, across-the-board cuts to Medicaid that will further risk the health care of sick children, result in significant cuts to Blythedale and ultimately severely limit our ability to provide needed care to many young and vulnerable patients."
Douglas Goggin-Callahan, the state's policy director for the Medicaid Rights Center, said the proposal would radically alter the landscape.
"Under this plan, beneficiaries would pay more while the government would pay less," Goggin-Callahan said. "It does nothing to address the bad deal that all Americans receive on health care because of inflated costs."