Under Tax Cap, White Plains Schools Can Add Two Teachers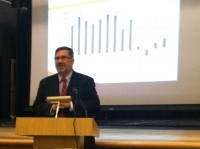 Superintendent of White Plains City Schools, Chris Clouet, at the March 14 School District Budget Forum held at the Post Road Elementary School, said he was cautiously optimistic "that the numbers we are working with are the numbers we will be using."
Clouet continued: "It has been a difficult year. We lost 14 percent of our staff over the last few years because we already have been operating under a [voluntary] tax cap. Because of this we don't have the same issues as many communities around us. We hope to maintain quality through a thoughtful budget process, but this is not easy. We are still dealing with a recession."
The proposed 2012-13 Superintendent's Budget released on March 12 at a meeting of the White Plains Board of Education is $188,765,135, a $3,228,666 (1.74 percent) increase over the 2011-12 approved budget of $185,765,135. Estimated non-property tax revenue is $32,008,795, resulting in an estimated 2012-13 property tax levy of $156,756,340, an increase of $3,180,610 (2.07 percent) over 2011-12. The increase is within the NYS mandated 2-percent cap.
Over the last few years the White Plains School District took budgetary precautions, beginning in 2009-10 with a 0.74 percent spending increase, a 1.21 percent decrease in 2010-11, and a 1.09 percent increase in 2011-12.
The proposed 2012-13 budget indicates a 1.74 percent increase. While significantly lower than budget years when increases were traditionally in the six to high-seven percent increase range (2008-09 had a 5.95 percent budget increase), this year's proposed budget maintains staffing levels, buys two teachers for elementary class size ($200,000), restores 2.5 library media teachers ($250,000), and seeks to allocate funds for minor building repairs ($150,000).
Fred Seiler, Assistant Superintendent for Business, followed Clouet at the podium during the forum. "Things have changed. We need to frame budgets differently," Seiler began. "We have been building budgets with a tax cap mentality for some time." However Seiler explained there were other issues affecting the district's financial decisions.
Seiler indicated there were major increases in retirement costs this year and that these are usually subtracted out of state aid before the district sees the money. The proposed budget sees $3.1 million, a $715,000 (30 percent) increase in benefits in the employee retirement system and $11 million, $1.185 million (12.1 percent) increase in benefits in the teachers retirement system over 2011-12.
"We have been using the governor's budget and hope to know by April 1 what our total increase in state aid will be," Seiler said. Last year there were decreases. This year both foundational and transportation aid from NYS is expected to increase by $756,293 to $13,680,579, making up 7.25 percent of the total budget.
Significant savings of $450,000 were found by refinancing debt and private agencies have been located to handle Pre-K services at lower costs. Seiler further noted that the Avalon Apartments located on Barker Avenue will provide an increase in PILOT payments of $868,766. The MTA Payroll Tax paid by White Plains Schools will be reimbursed, a further savings of $330,000, and as of April 1, will no longer be an expense.
The auditorium at Post Road Elementary School was largely empty. There were about 20 people in attendance at the forum, forming a natural divide with 10 members of the school board, administration and teachers' union on one side of the room, and 8 parents of students who attend the local school, with a few members of the press thrown in on the other side of the room.
Questions from parents indicated fear there would be cuts in educational services. Clouet responded that there was no discussion of cuts or further reductions. "We want to provide quality education while being respectful of tax payers," he said. "We worked line by line with principals at each school on supplies and other items."
Clouet also explained that school attendance has slowly been rising. "Most schools are at capacity, except Post Road Elementary School," he said. "We may move the kindergartens around. George Washington Elementary School has six kindergarten classes. Otherwise, the average class size is in the low 20's."
A further Budget Forum will be held this Wednesday, March 21, at White Plains High School at 7:30 p.m. The Board of Education will do a final review of the proposed budget on March 26 at Education House, 5 Homeside Lane in White Plains, at 7:30 p.m. Board adoption of the budget is scheduled for April 16 with a public hearing scheduled for May 7. The budget vote and election of Board of Education members will be held May 15.
If the proposed 2012-13 White Plains School Budget is not passed, a contingency budget reverting to a zero increase over the 2011-12 budget, will require a reduction of $3,180,610.