Girl Scouts Heart of the Hudson Centennial Gala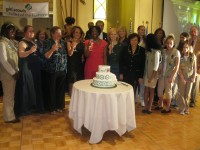 Girl Scouts U.S.A. celebrated its 100th Anniversary on March 12. Girls Scouts Heart of the Hudson, the council which oversees the programs for the girls in the Lower Hudson Valley, held a Centennial Gala at the DoubleTree by Hilton in Tarrytown to mark the occasion.
Actress Vanessa Williams and Congresswoman Nita Lowey, were joined by businesswoman Elizabeth Bracken-Thompson and the Watson Women of IBM, in being recognized for having distinguished themselves in their fields and for being role models for girls striving to become the leaders of tomorrow.
Marissa Contento, a 16 year-old Ambassador Girl Scout from Briarcliff Manor, was awarded the Young Woman of Leadership and Excellence Award for the outstanding efforts that she continually puts forth to make the world a better place.