Baby Ward was Hopping at HVHC on Leap Day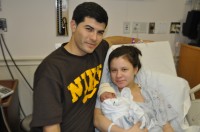 A record five babies were born at Hudson Valley Hospital Center on Leap Day this year.
The babies just kept coming, the earliest born at 11:15 a.m. and the last at 8:16 p.m. All five babies are healthy, beautiful and especially lucky, but a few weren't expected to arrive for another couple of weeks, leading the parents to believe fate was involved.
"I don't remember this ever happening," said director of Maternal Child Health at HVHC Sabrina Nitkowski-Keever. "We always thought it was a myth. Our average number of babies born here each day is between two and three. So it was particularly amazing that we had five babies all on Leap Day."
Leap days occur once every four years because the earth rotates a little more than 365 days per year. The hours are combined to make one full day on Feb. 29.
Theresa Samuels of Brooklyn welcomed baby Havier into the world at 11:15 a.m. He was 8 pounds 6 ounces. Then Kara and Matt Chasse of Putnam Valley welcomed baby Bryce into the world at 12:11 p.m. He was 6 pounds 7 ounces. Jodi and Donyal Scoggines of Mahopac, welcomed baby Joy into the world at 4:18 p.m. She was 5 pounds, 15 ounces. Jessica Romero and Walter Hernandez, of Mohegan Lake, welcomed their new baby boy at 6:16 p.m. He was 5 pounds, 6 ounces. Finally, Kate White and Sam Kaestner, of Ridgewood NJ, welcomed baby Silvia at 8:16 p.m. Silvia was 8 pounds, 4 ½ ounces.
"Congratulations to all of the parents on your new good luck charms," Nitkowski-Keever said.