Village Social Owner Wins Mt. Kisco Train Station Restaurant Lease
We are part of The Trust Project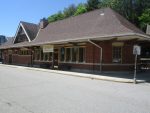 A familiar face will be the proprietor of the new restaurant that will be moving into the Mount Kisco train station space.
The Metropolitan Transit Authority (MTA) confirmed Monday that Joseph Bueti, owner of Village Social Kitchen and Bar on Main Street, was awarded the lease last week to open a restaurant in the 2,890-square-foot building.
MTA spokeswoman Nancy Gamerman said the establishment will be named Locali, an Italian pizza restaurant and bar. In addition to Village Social, Bueti owns and operates another restaurant, Locali Pizza Bar in New Canaan, Conn., and a wood-fired pizza truck that travels to various locations throughout the tristate area.
"Mr. Bueti plans to bring the same specialty wood-fired pizza and northern Italian cuisine to the Mount Kisco train station," read a brief summary from the MTA's Finance Committee about the upcoming operation.
Attempts to reach Bueti on Monday were unsuccessful.
Locali replaces Via Vanti! an Italian café that operated at the site for the past eight years until it closed in June after owner Carla Gambescia lost out on the bid for another lease. Via Vanti! had been operating without a lease after the original 10-year agreement that had been signed by The Flying Pig expired Aug. 31, 2015.
According to information furnished by the MTA, Locali – 2 Forest LLC, the official name of the entity that submitted the bid, proposed to pay first-year rent of $80,810. That far exceeded the bid from Via Vanti! which had proposed paying $58,800 for the first year.
The lease is for 10 years and calls for a 3 percent rent increase for each ensuing year.
Under the terms of the agreement Bueti will make proposed improvements to the building, including a new kitchen, upgrades to the bathrooms and renovate the basement and upstairs office loft. He will also provide a limited personal guarantee and a construction completion guarantee.
A target date for Locali to open was not mentioned.
Gamerman said in June that the agency issued an RFP last October. A competitive bidding must be undertaken whenever the lease expires for a property that the MTA owns. That way the agency is ensured of receiving maximum compensation for its real estate, she said.
Locali and Via Vanti! were the only two entities that bid on the lease, the MTA documents revealed. It was a closed bidding process so neither proprietor was aware of each other's proposal.
In the summary from the MTA's Finance Committee, which approved the lease on July 25 followed by the full MTA board's approval two days later, it revealed that the winning bid exceeds the fair market value for the property. The fair market value was determined by an independent real estate consultant for the MTA.