Sherlock Holmes Gets a Makeover in Hudson Stage's Newest Production
We are part of The Trust Project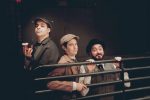 It's fitting that when Hudson Stage was searching for a director to present "The Hound of the Baskervilles," which opens Friday night at Whippoorwill Hall in Armonk, they turned to Mark Shanahan.
A veteran actor who also has an extensive director's resume, Shanahan has gained a reputation in theater circles as someone who could execute a comedy. It also helped that he has previously directed comedic adaptations of the production in several other venues across the United States.
"They not only wanted to bring something different but bring a little levity and joy to the audience than they're used to," Shanahan said. "There's all sorts of different theater that they provide but probably not something as vaudevillian and comical as this."
The story, billed by Hudson Stage as "Sherlock Homes meets Monty Python," is based on one part of the series of crime novels written at the turn of the 20th century by Sir Arthur Conan Doyle featuring the fictional detective. Shanahan said the comedic version of the story, which turned into "The Hound of the Baskervilles," was created by John Nicholson and Stephen Canny, members of a London-based clown troupe.
It's an outstanding production for the theater which is why it's often reprised, along with providing audiences with a hilarious experience, he said.
"I love these plays that celebrate the imagination in the theater," said Shanahan, a lifelong New Yorker who still lives in the city. "It can only be done in the theater and that's what's important to me."
Shanahan has plenty of experience at directing other whimsical comedies, such as "Around the World in 80 Days," Peter and the Star Catcher" and "The 39 Steps." Shanahan said the show forces the three actors to engage the audience. It stars Denis Lambert as Sherlock, Joe Delafield as Lord Baskerville and Matt Ban as Watson. Lambert and Delafield slip into other characters throughout the play as well.
With a compressed rehearsal schedule of just a few weeks, it takes actors who are talented and committed, he said.
"It's a very short rehearsal period, which will require actors who are prepared and really adept and know what's funny instantly and kind of teach each other in rehearsal," Shanahan said. "It's actually a great thing because it provides the rehearsals with a sense of urgency, and we have no time to waste."
For Shanahan, who found the love of the stage in high school and studied theater at Brown University, whether it's acting or directing, the joy is telling a story. It also doesn't matter whether you're on Broadway, where he performed "The 39 Steps," or a black box theater in the middle of nowhere, the approach of connecting with the audience is the same, he said.
"We want people to laugh and have a great time, and it's really funny," Shanahan said. "I think it's very funny and that's what makes me so happy."
With the final preparations for the show nearly complete, Shanahan is also looking forward to the joy of sitting back on Friday night, something he makes sure to do, even as the director.
"When it's opening night, I have my director's hat and I get to put it down and sit in the chair and be an audience member and get to enjoy it," he said. "That's a great thing about being a director, eventually you have to hand it over to the actors."
Hudson Stage will present nine performances of "The Hound of the Baskervilles." Shows are Friday, Saturday and Sunday from Apr. 28 to May 13. Fridays and Saturdays the show times are 8 p.m. with matinees on Sundays, Apr. 30 and May 7 and Saturday, May 13 at 3 p.m. Tickets are $40 for general admission and $35 for seniors and students.
For tickets and more information, visit www.hudsonstage.com. Whippoorwill Hall is located at the North Castle Public Library, Kent Place, in Armonk.