Schiliro Demands Apology, Fareri Walks Out of No. Castle Meeting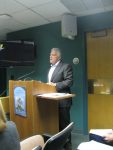 The grudge between an Armonk developer and North Castle officials deepened last week when Supervisor Michael Schiliro demanded an apology from the builder on behalf of a town department head in order to begin his presentation.
Developer Michael Fareri was prepared to speak at the late Wednesday afternoon work session pitching his plan to relocate the affordable units from his condominium project at the old lumberyard site on Bedford Road to another property he owns at 470 Main St. Instead of apologizing, Fareri walked out, telling Schiliro and the board that he didn't come to the meeting to be reprimanded.
Before the discussion could begin, Schiliro called Fareri's comments about North Castle Director of Water and Sewer Sal Misiti at the planning board meeting two nights earlier "deplorable."
During the planning board meeting, the irascible Fareri criticized the town for finding capacity in the town's Sewer District #2 and Water District #7 for other projects but questioning whether there would be room for a 48-unit affordable housing project at the former lumberyard property, one of several proposals he has floated for the site.
"I actually sent a letter to Mr. Misiti to tell him to come to tonight's meeting so I can ask him some questions, but he chose not to come," Fareri said at the planning board meeting. "He chose to hide, frankly."
Shortly after Schiliro opened the work session, he expressed his anger with Fareri.
"It's a deplorable comment and it has no place in this town," Schiliro scolded the developer as he stood at the podium. "We will not allow it. Nobody is going to make comments about our employees, especially Sal Misiti."
Schiliro was also irked at Fareri's comment that Orchard Drive in Armonk has been targeted for sewers by another developer as part of an unrelated project, suggesting it was because the supervisor lives on the street, and for repeatedly mispronouncing Misiti's name as "Misty" during the planning board meeting.
"Nobody works harder for this town than Sal," Schiliro continued, "and nobody will treat him with that disrespect, and I don't understand why you continue to conduct yourself in this fashion. I'd be curious to know."
The supervisor then told Fareri that before his begins, he owed Misiti an apology.
For more than three minutes, Fareri stood silently at the podium, while Schiliro and other town board members stared at him. Schiliro broke the silence to remind the audience that there was no public comment at the work session, then told Fareri that an apology was a condition to start the discussion.
"We're not beginning the meeting until you apologize," Schiliro said.
"Does that mean we're not having the meeting?" Fareri responded.
"It's a very simple task, Michael," Schiliro retorted.
"Thank you very much for your time. I didn't come to this meeting to get reprimanded," Fareri shot back before walking out.
It is the second time in less than three months that Fareri has stormed out of a meeting. In July, he left a planning board meeting after he had a disagreement regarding aspects of one of his lumberyard proposals. He has often sparred with town officials and tested their patience by frequently changing plans.
Following the aborted work session, Fareri's attorney, Alan Singer, said that the growing animosity between his client and the town, particularly Schiliro, has become personal. However, Singer said the matter could have been handled better.
"The reality is there was a condition put on this presentation that Mike (Fareri), for whatever reason, was not willing to accept and thought was inappropriate – and I agree it was inappropriate," said Singer, who acknowledged that Fareri has an ego. "It should have been done in private. It could have been done in private or with a phone call."
By the following day, Fareri apologized to Misiti by e-mail.
"Sal. I want to apologize to u if I offended u at the Monday night planning board meeting," Fareri circulated in an e-mail the next day. "As u remember just months ago I complemented (sic) u how fortunate the town is to have u. As I discussed with u my frustration in understanding sewer capacity for different developers and being able to expand the district while not allowing in the district to increase. Anyway if I offended u please forgive me."
Schiliro said he wasn't sure what would be acceptable to move discussions forward but defended his handling of the situation. He also said that since Fareri's comments disparaging Misiti was in public, so should the apology.
"We will not waver on making sure we have the backs of our employees," he said. "What he said was beyond egregious."
The town approved Fareri's plan for 30 market-rate units and six affordable units at the lumberyard site last year. Fareri then returned late in 2015 asking the town board to allow him to move the affordable units to a Maple Avenue property that he owns. The board eventually scheduled a public hearing, but it was never held after Fareri postponed multiple times.
He now has an application before the planning board for a 48-unit all-affordable complex at the lumberyard. However, Fareri would move forward with the 30 market-rate units if the town permits him to build 16 affordable apartments at his Main Street property, Singer said. That would include the six units to satisfy the requirement for the lumberyard project and to bank 10 additional units for future development, he said.
There is also a contract from Westchester County to buy the lumberyard site from Fareri for the development of 36 affordable units.
"It was drafted by the county, negotiated by us," Singer said. "It's there, all it needs is a signature."