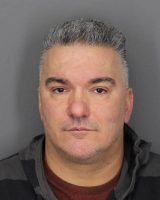 A Peekskill U.S. Post Office employee was arrested Tuesday for allegedly stealing thousands of dollars worth of stamps over a four-month period.
Antonio Pinheiro, 44, a resident of Westtown in Orange County, was charged with grand larceny in the third degree, a Class D felony, after allegedly stealing approximately 14,000 stamps, valued at more than $6,000, between July and October 2017.
According to Westchester County District Attorney Anthony Scarpino, Jr., Pinheiro was selling the stamps via an online marketplace.
Pinheiro was released on bail. His next court appearance is scheduled for January 10, 2019, in Peekskill City Court. His arrest on December 4 followed a joint investigation by the U.S. Postal Inspection Service and the District Attorney's Investigation Division.