New Castle Ready for Plastic Bag Ban to Take Effect
We are part of The Trust Project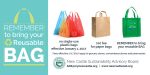 After more than six months of preparation and public education, the Town of New Castle is ready to see its Reusable Bag Initiative go into effect on Sunday.
The measure to eliminate single-use plastic bags was unanimously approved by the town board last spring, but officials provided the New Castle Sustainability Advisory Board (SAB) with extra time to allow for a period of adjustment for merchants and residents.
As part of the law, groceries, food markets, pharmacies and convenience stores will charge 10 cents per paper bag if a customer requests a bag to carry out their merchandise. The nominal charge is meant to encourage shoppers to bring a reusable bag when they visit a store.
Bags for meat and produce, prescription drugs, newspapers, greeting cards and plastic covering from dry cleaners still are permitted with no fee, according to the law.
Jennifer Mebes Flagg, an SAB member, said letters and a sheet containing frequently asked questions were sent to every merchant in town in October to remind them about the new law. During the past month, SAB members also visited each merchant in person to provide them posters containing pertinent information to hang in their establishment, Flagg said.
Earlier this month, residents received a mailing with information about the law. Banners were affixed to lampposts throughout town and alerts have been included in town-wide e-mails to keep residents aware that the law is set to take effect, she said. The SAB has also posted on the Chappaqua Moms website.
"The reaction of residents has been tremendously positive," Flagg said. "We're thrilled that it looks like New Castle residents are aware of the law, and certainly everyone will have to adjust a little bit to remember to bring their (reusable) bags. We've had great feedback and a lot of great support. We're very happy with that."
Despite strong support among residents during the public hearing earlier this spring, there had been some concerns expressed by merchants that it could negatively affect their business. Concerns raised came primarily from those in food-related businesses.
Flagg said that by visiting each merchant she believes there has been progress made on that front, but they plan to have a continuing dialogue.
"We believe that in our speaking with every merchant and trying to get them to see that there is support by the residents – obviously let's see what happens after Jan. 1 – but we think that by visiting with every merchant that has helped," Flagg said.
Town Supervisor Robert Greenstein said sponsorship of several thousand reusable bags by a few businesses in town, particularly DeCicco & Sons, which is opening this Friday in Millwood, has provided a good example for all merchants.
The education period has also been effective in preparing the town to adjust, Greenstein said.
"I definitely think the Reusable Bag Initiative will be a help to the town and we believe it will be supported by the merchants and the residents," he said.
In addition to DeCicco, which is sponsoring 2,000 reusable bags, Sunrise Solar is sponsoring 1,000 bags and Ted Holmes, a Chappaqua realtor, is sponsoring additional bags.
In an additional effort to help shoppers, the SAB will be handing out reusable bags after Jan. 1 as part of its public awareness campaign, Flagg said.
When the law was approved in May, New Castle because the fifth municipality in Westchester and the ninth in the state to enact a law prohibiting single-use plastic bags. Since passage of the New Castle law, Flagg said the SAB has been contacted by other municipalities in the area that are discussing similar measures.