Mt. Kisco Rotary Pancake Breakfast Benefits Little League
We are part of The Trust Project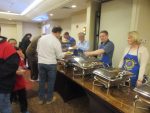 Rotary members everywhere choose a variety of charities and organizations throughout their home community, region, nation and around the world to donate their time and energies.
For its pancake breakfast last Saturday morning, the Mount Kisco Rotary Club decided to help an organization close to home.
The club selected the Mount Kisco Little League as this year's designated recipient of the proceeds from the annual event held at Holiday Inn, which donated the food and space for the breakfast.
"This year (we chose) something with the kids, keep the kids off the streets," said Rotary Club President Bruce Desmond. "It just benefits everybody. The coaches do so much for this community, it's also a thank you to them."
Parents, coaches and players were joined by Rotarians and community members who turned out to have a robust all-you-can-eat breakfast consisting of eggs, waffles, fruit, sausage, bacon, mini muffins, and of course, pancakes.
Desmond and Mount Kisco Rotarian Dan Taplitz, also a Little League coach, said the breakfast, which is scheduled for either spring or fall, raises about $2,000. The money directly assists the identified organization help achieve its mission.
Mount Kisco Rotary leaders last year donated the money to the Appalachia Service Project, which builds and fixes houses in for low-income families in rural areas of West Virginia and neighboring states.
Taplitz said making the Little League the focus of this year's breakfast highlights the needs of a local organization.
"We've invited the Mount Kisco Little League to help raise awareness for people who want to get involved in the community and it's a way for the Rotary Club to give back to a great local organization," Taplitz said.
The money raised last Saturday will help Little League purchase new equipment, jerseys, equipment bags, ball buckets and field maintenance. While user fees pay for some of the ongoing expenses, the Mount Kisco Little League must also find other ways to find revenue. A barbecue is also held later in the season.
Mount Kisco Little League President Bob Byrns said having the honor of being selected for this year's pancake breakfast recipients also required participation from the organization's roughly 170 players and their families.
"It makes us feel good and it gives us a little bit of a responsibility to make sure we have a good turnout among the families who participate in the Little League," Byrns said during the three-hour breakfast. "So far, we've seen a lot of our Little League members show up, so we're very happy about that."
Craig Sulema, a Mount Kisco Little League executive board member, said fundraising is a key element because the village has a relatively small, self-contained base of families. The Little League is appreciative of the Rotary's efforts, he said.
"We're a small community, we don't draw off of other areas," Sulema said, "so it's important to give back to the community and make sure the kids and families are having an experience they enjoy, and that's really our goal, to make sure that when they come to Mount Kisco Little League they appreciate what we're doing and they can see the results of fundraising and registration."
The Little League's opening day will be Saturday, Apr. 22 and will kick off with the annual parade up Main Street to the fields, said J.C. Barone, also an executive board member.
The Mount Kisco Rotary Club contributes each year to about 25 organizations. Its largest fundraiser is the Tastes of Northern Westchester in the fall, Desmond said.