Longtime Yorktown Resident Pat Kibbe Dies at 90
We are part of The Trust Project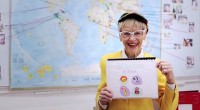 Patricia "Pat" Hosley Kibbe died peacefully at home in Yorktown on Sunday, July 13, surrounded by her loving family. She was 90 and lived a full and well-rounded life.
She was born on September 2, 1923 to Loring and Frances Hosley, and grew up in Southwick, Massachusetts. Pat graduated as valedictorian of her high school class. She turned down a scholarship to Wellesley College in order to pursue an acting career. She attended The American Academy of Dramatic Arts, and after graduating in 1944 appeared on Broadway in the musical "Janie", as well as other well-known theater productions. She had a successful career in radio and played "Gladys" in the long-running and popular "Henry Aldrich Family" radio program. As the television industry emerged, Pat made the transition from radio to TV and became a pioneer in live TV, including performances on Armstrong Circle Theater and early syndicated comedies – she appeared on "The Honeymooners", where she played Agnes, Alice Cramden's sister, and early TV shows, including "Car 54 Where Are You?." As Madison Avenue ascended and it came time to raise a family, Pat transitioned to commercial work – she made memorable TV commercials for Dove, Playtex, and General Mills – among her memorable lines were "There's a Dove in my pantry!" and the still famous "I'm cukoo for CoCo Puffs!"
Pat and her husband John (Jack) Kibbe purchased their home in Yorktown 60 years ago in 1954. They raised five children and both were active contributors to the growing Yorktown community. Pat helped start a Christian Science church in Yorktown Heights and donated her time to the Yorktown schools and many other schools in the area.
After a vibrant career in theater, radio and TV, Pat started to write. She was a gifted storyteller who found her material in the joy of surprise of everyday life. She wrote three well received books for young adults — The Hocus Pocus Dilemma, My Mother the Mayor Maybe and Mrs. Kiddy and the Moonbooms — all of which were originally published by Knopf and have been recently re-published by the Author's Guild.
Pat was deeply committed to humanitarian goals. In 1991 she founded Kids to Kids International. Her organization allowed children in the United States to send school supplies and picture books to children in refugee camps, and enabled children in refugee camps to make picture books to return to children in the United States. Pat's goal was not to create pen pals — she wanted to help educate children living in refugee camps, but just as importantly, she wanted to inspire and empower children in the United States to contribute to a larger, global, community. An exhibit of some of the work done by Kids to Kids will be on view until November at the Yorktown Museum.
She is survived by her husband of 70 years, five children and six grandchildren. Donations in her memory can be made to First Church of Christ, Scientist, Katonah — 13 Bedford Road, Katonah, New York 10536.
There will be a memorial service for Pat on 

Thursday July 24th

 at St Andrew's Lutheran Church, 2405 Crompond Road, Yorktown Heights, at 

7 p.m.

 A reception at 582 Viewland Drive will follow immediately afterwards.