Know Your Neighbor: Mike and Miriam Risko, Music School Owners, Ossining
We are part of The Trust Project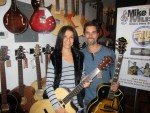 Mike and Miriam Risko are Westchester products, but as musicians it was in Manhattan where they met.
Mike grew up in Yorktown while Miriam spent most of her childhood in Ossining. It wasn't until they were young adults about 25 years ago and playing clubs in the city that their paths crossed.
Considering that for the past 20 years they have owned and operated their own music school, Mike Risko Music, it's a good thing they had tied the knot. Otherwise, they might have never seen each other, Miriam said.
"One of us is always here and we're open late. We're open till nine o'clock at night," she said. "We put in a lot of hours here. We have twice the amount of responsibility. We have our band, too. We work a lot but it helps that we're married."
What also helps is that the couple, who have nine- and 12-year-old children, is passionate about music and enjoy everything about what they do. Their school now has about 30 instructors teaching nearly every type of instrument and genre of music and 500 students, including adults, who take either individual lessons or are part of group instruction each week. It is open Monday through Saturday.
By 2009, they had outgrown their previous space above a Croton Avenue storefront in Ossining and bought a 3,000-square-foot building down the street, and in the process also became music retail merchants. Their store carries a wide variety of instruments, equipment and sheet music.
As musicians it remains important for them to perform, particularly at functions throughout the area and on behalf of various organizations locally, such as for several local education foundations. Mike and Miriam also play at local fairs and farmers markets throughout the metropolitan area.
Among their other community-centered activities, the Riskos have provided music programs to the Ossining and Chappaqua schools and CSI Nursery School and Garden House Nursery School in Briarcliff Manor. They also run a pre-K piano program at the Ossining Children's Center and are responsible for the music program at the Pleasantville Cottage School and Edenwald School.
"Part of the thing that makes it work is that we love what we're doing so we're not forcing ourselves to work," said Mike, 48, of the seemingly exhausting schedule. "We're sort of doing this anyway, and that's how the whole thing started, gigging and playing and (being) interested in all of this, it's sort of an extension of where our life is anyway."
Miriam, 45, started taking voice lessons as a young girl. Mike took his first guitar lesson at 13 years old. Five years later while he was pumping gas at a Yorktown service station, he would practice his guitar when there was time between customers.
One day, the owner of an Ossining music store stopped at the gas station and heard Mike play. He asked him to come down to his business, which is where Mike Risko Music operates today.
That eventually led Mike to give music lessons in the back of the business. He accumulated a large enough following, where by 1995 he started his own school to extend his love for music to others. In 2009, when the owner of the former music store was ready to retire, the Riskos bought the building.
"I just wanted to show what we do," Mike said of teaching. "When I opened the school, I opened it by myself and I just wanted to show what I was teaching and learning."
He wrote and developed the school's guitar curriculum in a series of three books. They call their instruction a different experience than the music lessons they took in their youth, make sure students are having and schedule performances in the community, such as at libraries. The Riskos spoke recently at a National Association of Music Merchants conference in California on that topic.
Part of passing on that appreciation of music is to make children and parents aware that virtually anyone can learn to play an instrument, Miriam said.
"One thing about music lessons is there's no easy way, there's no shortcut," she said. "You've got to learn it and you've got to start from the beginning and it takes the discipline of being able to stay with it. It shows that if you work hard at something you will get good at it, which is something you can carry over to every aspect of your life."
Mike Risko Music is located at 144-146 Croton Ave. in Ossining. For more information, call 914-762-8757 or visit www.mikeriskomusicschool.com.