Know Your Neighbor: Karen and Jay Schecter, Judaica Store Owners, Mt. Kisco
We are part of The Trust Project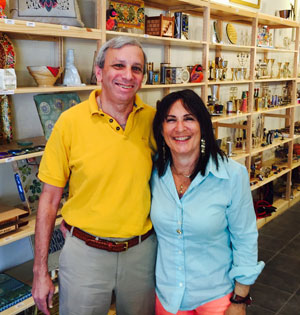 Karen Schecter took a respite from being a local merchant but she never strayed from the Village of Mount Kisco after closing her store, The Aesthetic Sense, in 2013.
Schecter needed a break when she decided to shut her Judaica shop on Main Street to take on another job opportunity. At about the same time, her husband, Jay, an attorney and a former CEO of a staffing and recruitment firm, was retiring and the couple wanted to reassess their future.
"I got tired, needed to regroup and wanted to work full-time for a nonprofit," Schecter said. "Jay was retiring and it was time to move on and decide whether, in fact, we wanted to do this."
Two years later, they emphatically answered whatever doubts they had. In June, the Schecters, Mount Kisco residents since 1982, returned to the same block, this time at 222 E. Main St., to reopen The Aesthetic Sense. Arranged as more of an art gallery, there's a wide array of merchandise such as prayer shawls, Judaic-themed art, items for the High Holy Days and gifts for weddings, Bar and Bat Mitzvahs.
Along with a renewed vigor, they also have a sharper focus. Everything that the Schecters sell is ethically sourced and adheres to fair trade principles. They require that their vendors, regardless of where an item is produced, belong to a fair trade organization so that the people who made the product are paid a living wage.
Jay Schecter said having been raised in a fairly religious household he was taught from a young age that service to others was a requirement.
"It's a central focus in Judaism, and frankly in many religions, to not run from the community, but be part of it and be responsible for it," said Jay Schecter, who serves on the boards of the Boys & Girls Club of Northern Westchester and Bet Torah in Mount Kisco. "So I grew up with that notion."
That philosophy is also something that Karen and Jay Schecter have practiced in their lives together and instilled in their three grown children. In the 1980s, they were involved in bringing toys and spending time with young children who were in the hospital after being born with HIV/AIDS. It was at a time when that was a virtual death sentence before advancements in treatment.
Their oldest son, who lives in London, works for a nonprofit organization while their daughter, the middle child, took a year off before her fourth year at Albert Einstein Medical College to spend time doing charitable work in Uganda. Their youngest son is in medical school at Quinnipiac.
As Karen Schecter concisely sums up, "it's how we live."
"We've always done that and we have three kids that are incredible give-backers," said Schecter, who served six years on the Bedford Board of Education, including two years as its president, in the 1990s.
Karen and Jay, who both grew up on the south shore of Long Island, met through a blind date. Their fathers once worked at the same company their parents were good friends with each other. They have been married for nearly 37 years.
She also is an attorney and opened her own practice after the family moved to Mount Kisco. In 1997, Karen established the original The Aesthetic Sense.
Meanwhile, Jay spent most of his career as a real estate attorney and later as general counsel to a staffing and recruitment firm. Unlike in The Aesthetic Sense's first incarnation when his wife operated the store alone with him as a silent partner, Jay is happily learning the ropes of what it's like to be a merchant.
Having remembered when the village was the shopping hub of northern Westchester, it's also been enjoyable having a business in the community where they've lived for so long.
"We feel very comfortable here," he said.
In the new store, the Schecters are attracting customers through website sales, something the first store didn't have.
After the summer, the couple is planning a formal grand opening. During that period, they plan to set aside a portion of their sales for the Boys & Girls Club and Birthday Angels, an organization in Israel that provides birthday parties for children from needy families. There will also donate to a third organization that helps pay for Ugandan children to go to school.
"It really is local but it shows just how small the world really is," Jay Schecter said.
For more information on The Aesthetic Sense, call 914-864-1600 or visit www.theaestheticsense.com.