Know Your Neighbor: Holly Blum, The Word Whisperer, Chappaqua
We are part of The Trust Project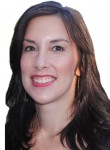 Holly Blum attended a wedding where the best man's speech was 20 minutes too long, filled with inside jokes and a lame attempt at a David Letterman-type Top 10 list. The experience was cringe-worthy, one of many that Blum recalled hearing over the years.
But frightfully embarrassing toasts and speeches at weddings, milestone birthday parties or Bar and Bat Mitzvah celebrations don't have to be inevitable.
Last summer, Blum launched A Speech to Remember, a service that helps a best man, maid of honor or parents witnessing their child's special day find the right words for some of the biggest moments of their lives.
"(My) experiences inspired me to realize that this is something that comes naturally to me but a lot of other people struggle with it," Blum said. "If I can take something that brings me such joy and passion and help other people in the process and get involved with their special celebrations, weddings, a Bar or Bat Mitzvah or a milestone birthday, if I could play a small part in it, it's a win-win."
For Blum, a 15-year public relations professional and eight-year Chappaqua resident who refers to herself as The Word Whisperer, she uses her skills as a writer but in a more creative manner than during her years in corporate PR.
In order to craft that special speech or toast, Blum meets with a client for about two hours, focusing on the types of words they use, intonation and manner in which they talk. She also learns about the person her client will be toasting and what the client wants to convey.
"A lot of times people have a lifetime of memories to sort through and they're completely overwhelmed with the thought of picking one or two," said Blum, who still works in public relations on a freelance basis. "What I try to do is look for the broader themes and find ways to connect one story to another that all ties in to the main speech because that helps with the tone, it helps with the flow and it makes for a more organized speech."
Once Blum writes the draft of a speech, she'll go over it with the person to make sure it is an authentic representation. Brevity – a speech should be between three and five minutes – and touching on themes that all guests can relate to are crucial, she said.
"One of the things that I'm very focused on is making sure that the end result is in the person's voice," Blum said. "In other words, if they get up there and are in a voice that doesn't sound true to who they are, then I haven't done my job well. It has to be as if the person wrote it themselves. They just got a little professional help along the way."
Blum discovered the power of the written word at an early age. When she was in second grade growing up in Warwick, R.I., she wrote a letter to her mother explaining why she loved her. Blum saw her mother cry when reading the letter and those tears of joy left a lasting impact on her.
Continuing to write, she studied French and communications at the University of Pennsylvania, where she met her future husband, Gary, a financial planner. They moved to Manhattan for 10 years and relocated to Chappaqua a little more than eight years ago. The couple has two daughters, ages 8 and 11.
She said many speech givers try to be funny, even when they don't have a great sense of humor, and focus too much on themselves rather than the person or people who entrusted them to address a party that could have several hundred people.
Blum said she has a simple rule for those trying some off-color humor: if you wouldn't want your grandmother to hear it then leave it out of the speech.
So far, Blum has enjoyed getting the word out about her business, working with event planners, photographers, clergy and others.
"I definitely see a slow build. It's a niche and it's not for everyone, but I've already seen the results of the power of social media and it's just amazing," Blum said.
For more information about A Speech to Remember, contact Holly Blum at 917-538-9300, e-mail aspeechtoremember@gmail.com or visit www.aspeechtoremember.com.