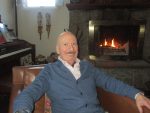 Herbert Hadad never could have imagined that an essay he wrote for The New York Times nearly 32 years ago would spawn an on-stage production.
But that's what happened recently when The Jewish Women's Theatre in Los Angeles contacted Hadad out of the blue asking his permission to use an op-ed piece of his as the basis for a new play.
"I was bewildered in a happy way," Hadad said. "It couldn't be bad news."
The piece, which printed on Aug. 3, 1985, was titled "Both Jewish and Arabic," and outlined his hope to keep his family's Arabic roots alive in his three children. Hadad's father immigrated to the United States from Aleppo, Syria as a young adult in the early 1920s.
The article was reprinted 20 years ago in the book "Sephardic American Voices," a collection of essays. That is where the theater company spotted the story.
It didn't take long for Hadad to give his permission. The company has been writing the script and the play is scheduled to run 15 to 20 times this month. Hadad said the company's mission is to transform stories from the page to the stage.
"I'm getting a small honorarium, which is nice, but more importantly it's going to be videotaped, the production, he said.
The play is the latest twist in Hadad's long and satisfying career, dating back to his first job rewriting copy at The Boston Globe shortly after he graduated Northeastern University. Wanting to do actual reporting, Hadad left for a job with the Keene Evening Sentinel in New Hampshire before returning to The Globe.
"I had the good fortune, which I didn't realize at the time, to become a midnight copy boy at The Boston Globe, and that opened my eyes to the excitement and pleasure of journalism, and then ultimately become a reporter there," Hadad said.
After five years, he returned to his native New York City where he would eventually work for the New York Post and The Times. There was also a brief stop at a public relations firm, which is where he met his wife Evelyn in 1972. She initially rebuffed his overtures because if it didn't work out there would be the awkwardness of having to see each other daily. The day Hadad was abruptly fired, he asked Evelyn out again on his way out the door.
"I was stressed for five or 10 minutes and then I went down the hall to her office and said 'Can we go out? I don't work here anymore,'" Hadad recalled.
Hadad would freelance for years, writing for a wide cross-section of publications. The pressures of having three children, however, forced him to look for full-time work.
His journalism connections led him to an 18-year stay as a press officer for the U.S. Attorney's office in White Plains. He retired from that job in 2015.
While journalism was Hadad's career passion, the 1985 op-ed piece also highlights his deep connection to both his Middle Eastern and Jewish heritage.
"I had a lot of Jewish friends in Boston, made more in New York. It's unavoidable," Hadad said. "I love the Jewish sense of humor. I had no trouble, except my dad, the way he understood the religion and from the way he spoke Hebrew, was strange to the Ashkenazi brethren.
"I was very proud of him and I became more Arabic because of my admiration for him," Hadad continued. "We didn't speak Arabic in the household but I've been taking courses ever since."
He would also teach his children, who are now grown – or at least try to.
Hadad's father never realized his dream of revisiting Aleppo, but the family scheduled a visit in 2008. It pains Hadad to see Syria decimated from the unending civil war.
"It's only been eight years (since the trip). Frankly, it's tears every day," Hadad said.
Despite retiring two years ago, Hadad's love of writing hasn't waned. He's an instructor at the Hudson Valley Writers' Center in Sleepy Hollow and has recently self-published a book, "Finding Immortality: The Making of One American Family," which is the story of his own family. Hadad is also putting together another book, a collection of his essays.
He's grateful that he has the material to write about his family and his experiences, culled from his years as a freelancer, which afforded him the opportunity to often work from home and be close to his children as they grew up.
"If I wasn't around I wouldn't know them half as well," Hadad said.