Know Your Neighbor: Claire Gilvar, Founder of Booked Parties, Chappaqua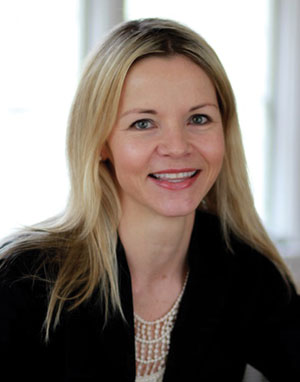 Sometimes it's obvious for parents where to celebrate their child's birthday party. Other times, they may be at a loss to find somewhere unique that their son or daughter would enjoy sharing with friends and family.
This summer Claire Gilvar, using her expansive professional expertise and the very practical experience of being a mother of two young children, launched Booked Parties, a website birthday party resource.
Users of the site, www.bookedparties.com, which now lists more than Westchester businesses and venues, can also book parties through the platform, entitling them to a 5 percent discount with the participating business.
"As a parent myself, I want the resource because I thought it would be used by parents like me," said Gilvar, whose son is in kindergarten and daughter is in third grade.
Gilvar creates what she describes as an e-brochure for each business so those searching on the website can gain details about what each one has to offer. They can be searched by location or type of activity, such as martial arts, dance, cupcake decorating or a variety of sports.
The site is currently geared for parents of children from one to 13 years old, although Gilvar hopes to eventually increase its scope to include venues that would appeal to teenagers and include the busy Sweet 16 market.
"I'm hoping to target these really cool, niche businesses that don't have big marketing dollars as a business," she said. "Just to create a very varied resource because we all know about many of the main ones but not necessarily the smaller and more unique businesses."
The idea for Booked Parties came to Gilvar practically out of the blue. One day she received an e-mail about a business that would be a good place for a kid's birthday party and e-mailed the link to her sister in London, suggesting her sibling start a similar business there.
However, parents in the United Kingdom typically don't spend as much money on parties as many of their American counterparts, said Gilvar, a native of Sheffield, England. But the seed for Booked Parties was planted.
"Then, a light switch went off and I said my gosh, and I called my husband just in case I have a crash (to tell him) this is what I'm thinking about doing and what do you think of this idea," Gilvar said. "I really like this idea."
Her professional background, which included being an executive assistant to corporate CEOs and CFOs and event planning gave her a good idea about how to try and execute her idea. Most notably, Gilvar worked at the designer jewelry company David Yurman and was a senior events manager at John Hardy, a luxury jewelry company.
"I have background in PR and events as well and always loved, having that background, keeping people organized and I like to cross things off my list and get things done," she said.
Gilvar graduated from Westminster College in Oxford and entertained thoughts of teaching. She joined the British Royal Navy at 18 years old, her interest piqued by an uncle who had also served. She came to the United States as part of her training and while here also worked a stint as a nanny for a Chappaqua family.
After four years of military service, Gilvar participated in a yearlong page program for CBS, where college students and graduates worked for minimal pay and gain experience in a variety of departments. Gilvar was placed in the news department and later landed a fulltime job as the personal assistant to former anchor Dan Rather for six years. At the time, she had no idea who Rather was.
"I was lucky to have gotten the evening news gig as a page, and you were guaranteed so many hours because it might be morning til nighttime. So I was guaranteed lots of hours and I think I made a good cup of coffee," said Gilvar, who moved to Chappaqua from the city with her husband Adam three years ago.
Down the road, Gilvar hopes to expand Booked Parties beyond Westchester. She continues to sign up new businesses while others reach out to her.
This month Gilvar has organized a toy drive through Birthday Wishes, a Massachusetts-based nonprofit that provides birthday parties for needy children. Seven of Booked Parties' businesses, including Club Fit in Briarcliff Manor, DeCicco's in Armonk, World Cup Gymnastics in Chappaqua and Westchester MMA Fit in Mount Kisco, are collecting gifts. Donations needed include Target, Wal-Mart and Toys 'R Us gift cards, new and unwrapped toys for children up to four years old and sports equipment. Donations are accepted through Oct. 3, including at the Chappaqua Children's Book Festival. More information is available at www.bookedparties.com.