Indian Point Plant to Set Precedent by Operating Without a Permit
We are part of The Trust Project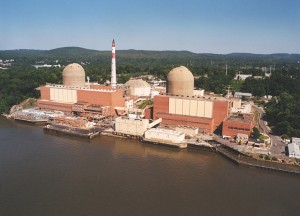 The Indian Point 2 nuclear power plant in Buchanan will soon be setting a precedent by being the only nuclear facility in the nation to operate with an expired permit.
The federal Nuclear Regulatory Commission notified Entergy, owners of the controversial plants, that it can continue to generate power to 25% of Westchester County and New York City after its operating license expires September 28 while the NRC reviews its request for a 20-year license extension, a process expected to take at least another year.
Entergy officials stressed Indian Point 2 would continue to operate "in accordance with NRC requirements and commitments made in the license renewal proceedings," and the NRC would provide continuous oversight and inspections.
Entergy has owned Indian Point 2 since 2001 when it purchased the plant from Con Edison. In April 2007, Entergy initiated a lengthy process by asking NRC to approve another 20 years of service for a facility that's already 30 years old. The company has invested more than $1 billion to upgrade and enhance Indian Point 2 and 3. It acquired Indian Point 3 from the New York Power Authority in 2000. That unit will enter its period of extended operations in December 2015.
Federal law and NRC regulations permit continued operation of plants beyond their original licensing period. By law, the current operating license is extended until the license renewal process is complete.
NRC Staff issued an Environmental Impact Statement in 2010 and a Safety Evaluation Report in 2009. In June of this year, the NRC issued a Supplemental Environmental Impact Statement regarding endangered aquatic species. Additional supplements are possible.
Meanwhile, the environmental group Riverkeeper recently pointed to a report released by the Nuclear Proliferation Prevention Project at the University of Texas, commissioned by the U.S. Department of Defense, that concluded the Indian Point plants are one of eight reactor sites across the country that are vulnerable to a sea borne terrorist attack that could lead to a spent fuel pool fire and a catastrophic release of radiation.
Riverkeeper added that the report comes on the heels of a study of emergency planning around nuclear plants that found the NRC has not properly studied "shadow evacuations," the number of people outside the 10-mile evacuation zone who would try to evacuate without being instructed in the case of a radioactive release.
"Taken together, it's clear that the NRC and the nuclear industry are suffering from a dangerous case of willful blindness when it comes to nuclear security and emergency planning, one that puts millions of New Yorkers at risk," Riverkeeper stated.