Hochul Proposes $227B State Budget, Doubles Down on Housing Plan
News Based on facts, either observed and verified directly by the reporter, or reported and verified from knowledgeable sources.
We are part of The Trust Project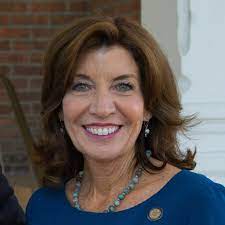 Gov. Kathy Hochul proposed state spending on key initiatives including mental health, public safety, affordable housing, education, criminal justice and climate change in her $227 billion state budget for 2024, the largest in New York history.
In the opening remarks of her executive budget address last week, Hochul said the overall goal was an attainable quality of life for all New Yorkers.
"We set the table for what should be one of the most prosperous times in our state's history. But if New Yorkers don't feel safe, they can't afford to buy a home, they can't pay their rent, the cost of everything keeps rising, then nothing we've done will make a difference," Hochul said. "My desire to have the New York dream attainable for all who call this great state their home, but right now remains out of reach for far too many."
Hochul introduced her budget by reiterating her pledge against raising income taxes for the upcoming year.
Among the budget's key points are a long-term $1 billion for mental healthcare; $125 million to be added to the five-year, $25 billion affordable housing commitment; a 10-year plan to build 800,000 new homes to address the state's housing shortage; $337 million to reduce and prevent gun violence; $5.5 billion to promote energy affordability, reduce emissions, clean air and water; $7.6 billion to continue the state's four-year child care with increased eligibility to include an additional 113,000 children; $1 billion for healthcare capital projects at hospitals and other facilities; $1.3 billion in economic development investments to create jobs; $1 billion to provide healthcare, shelter and other critical services to asylum seekers; and $34.5 billion for education funding.
That represents the largest school aid increase in history, which includes $125 million to expand the full-day pre-K program and to increase school aid by more than $13 billion over the next 10 years.
Concerns of many Westchester municipalities is Hochul's New York Housing Compact that emphasizes transit-oriented development, a plan to create 800,000 new homes over the next decade.
"We have to work together to increase the housing supply and our goal is for housing stock in communities downstate to grow by 3 percent," Hochul said. "The whole objective is so families can stay in New York, kids can raise their own families where they grew up, employers don't have to worry about whether or not there's going to be employees in a community to have a place to live so people can access high quality, good paying jobs and realize their own dreams."
Hochul pointed out that in many towns, land around train stations has increased in value.
"And yet there's a parking lot sitting there, run-down warehouses, abandoned shops?" she commented. "We can do better than that."
The proposed spending for affordable housing includes $250 million for infrastructure upgrades, $20 million for planning and technical assistance to support local rezoning efforts, $15 million for a new statewide data collection effort and $4 million to create a new Housing Planning Office to support localities to meet their housing goals and coordinate planning efforts across the state.
Two Democratic Westchester state representatives praised the governor's budget but voiced concern for the Housing Compact.
"Governor Hochul's (Fiscal Year) 2024 Executive Budget proposal strongly supports the creation of new affordable housing statewide, which residents and newcomers to the state are in dire need of," said state Sen. Peter Harckham (D-Lewisboro). "But her bold proposals deserve close analysis. Many of my constituents are concerned by the transit-oriented development and rezoning aspects of the governor's plan, and it is these important details and more that will be addressed when the Senate drafts the one-house budget plan."
Applauding Hochul's affordable housing plan but voicing reservations was Assemblyman Chris Burdick (D-Bedford).
"While I commend the governor for addressing the issue of housing in her budget, I am concerned about her plan's reliance on local government mandates, particularly where it concerns Transit Oriented Development, and its insufficient focus on affordable housing, which is greatly needed here in Westchester County," Burdick said. "I am hopeful that in negotiations with the executive, we may shift to a system built on incentives, which would enable local governments and the state to find solutions in a collaborative manner."
Freshman Assemblyman Matt Slater (R-Yorktown) provided less flattering comments, calling Hochul's budget an "assault on the suburbs." Not only did he adamantly oppose taking away local zoning decisions from municipalities, but the proposals will make New York less affordable, he said.
"New York State is last in the nation when it comes to affordability and job recovery from the pandemic," Slater argued. "The governor's proposal fails to address either of these critically important issues, which have forced millions of New Yorkers to seek better opportunities in other states. The governor's budget only continues these failed policies."
The $227 billion proposed budget is a 2.4 percent increase from Hochul's first budget proposal that she announced in her State of the State address last month. The state is also benefitting from an $8.7 billion surplus from tax revenue that enables funding for certain projects and programs. Hochul said the state's reserves are expected to be $24 billion by the end of the year.
A month-long schedule of 13 joint Senate-Assembly budget hearings started Monday and will conclude on Mar. 1. The start of the new fiscal year is Apr. 1.