Disputed Peekskill Housing Grant Flap Takes a Personal Twist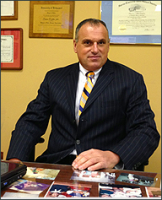 Peekskill Mayor Frank Catalina has filed a formal complaint against a Town of Philipstown justice for professional misconduct and damaging his reputation with remarks made over state grants wrongly given to Councilwoman Drew Claxton and her son for home repairs.
In a March 11 correspondence to the New York State Commission on Judicial Conduct, Catalina, an attorney since 1982, claimed Alan Steiner, in his role as chairman of the Board of Directors for the non-profit organization The Preservation Company, violated rules governing judicial conduct by allegedly "making material misrepresentations he knew were false" in press statements regarding the grants made to the Claxtons in 2007.
Catalina maintained Steiner also "intentionally (cast) the worse aspersion that can be cast over an attorney" by stating he wasn't honest.
"He has refused to explain, retract or apologize for this conduct which violates attorney disciplinary rules by making false defamatory and deceitful statements," Catalina stated in his complaint. "Was Steiner's conduct, as outlined herein purely a political knee-jerk reaction to provide cover for a favored politician? Maybe. Were the false and misleading comments all just the means to effectuate that goal? It's more than probable. Was his vicious personal attack against my reputation and integrity an attempt to obstruct the lawful inquiry of the city or was it just personal animus? Take your pick. Was his conduct designed to cover his own misconduct and/or negligence in the granting of these loans? Likely."
On March 2, Steiner and Rev. Jeannette Phillips, executive director of The Preservation Company, stated the organization "takes full responsibility for the administration" of $34,000 in grants given to the Claxtons "and oversights in our compliance measures that allowed them to be administered."
Steiner and Phillips also stated The Preservation Company would be returning $15,000 in grants awarded to Frederick Claxton under the Affordable Housing Corporation program and $19,427 for grants awarded under the HOME program. The Claxton family will then reimburse the organization.
In addition, The Preservation Company noted it would not be pursuing a $313,000 Community Development Block Grant awarded to Peekskill that was designated for them by the Common Council to improve homes on properties it owns in the city.
When asked for comment on Catalina's complaint, Steiner declined to address specifics but issued the following statement: "The Preservation Company has been, and continues to be, in close correspondence with all parties with jurisdiction over funding it receives from the State of New York. As we have stated previously, we will not engage in local politics."